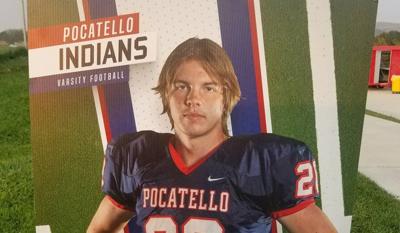 Kade Cooper unknowingly foreshadowed his own life at just 3-years-old.
Above his infectious smile and dirty blond hair popping through a metal fence was the phrase, "World's Most Dangerous Creature."
"And from that day on, he took that messaging to heart," Jared Cooper, Kade's father, said about his son.×
On Monday, 17-year-old Kade Cooper, who, among many accomplishments, was a 2020 second-team all-conference outside linebacker as a senior for the Pocatello High School football team, died by suicide. His unexpected death has left many in the Gate City community rattled, heartbroken and searching for answers.
Ads
Over 250 people have contributed to an online fundraiser for Kade, which surpassed its $10,000 goal overnight. His crosstown rival football team at Century High School even adorned half of their own school's spirit rock in Poky's colors — blue and red — surrounding the phrase "KC 20."
As family, friends, teammates and competitors prepare to attend Kade's viewings and funeral this weekend, the Idaho State Journal reached out to some of those who loved him most and knew him best to reflect on a life many characterized as a non-stop adventure — the only fitting way to live for the "World's Most Dangerous Creature."
Kade was Katie and Jared Cooper's second of four children, born on Aug. 28, 2003 — already donning the smile most people will forever remember about him, Jared said.
"He was such a unique baby," Jared said. "He always had a smile on his face and was constantly on the go. The moment he first hopped on a bike he just took off without anybody training him at all."
As he got older, Kade developed an endearing quality in which he lived vicariously through the friendships and bonds he formed with others. His own happiness centered somewhat on the happiness of his friends and loved ones.
"He was the type of person who marched to the beat of his own drum," said Gavin Hirschi, Kade's cousin, who in recent years had developed a close bond with Kade after losing his father to suicide. "He just had this wonderful spirit about him. Whenever he walked into the room he would bring light and laughter with him."
Kade's natural athleticism never ceased to amaze his family, said Jared, adding, "We were always in awe about his center of gravity and how he could keep his balance so well."
His talents surpassed expectations and transcended onto the football field and basketball court to the skatepark and mountaintops.
"We were always either skateboarding, climbing 80 foot trees, climbing mountains or jumping off cliffs," said lifelong friend Bransen Hall. "I swear we skated with Kade every day this last summer."
Bransen's older brother, Jaren Hall, added, "Kade went hard man. It was either a full send or a no send with him. He would always do the craziest stuff."
From commandeering golf course flag poles to breaking extremities backflipping off rope swings, Kade lived with a healthy level of fearlessness, his friends said. His satirical sense of humor provided a bit of balance to the well-rounded teenager, Jared added.
"Where do I even begin? He was so unique," Jared said. "He loved to dance in the shower and record himself singing Christmas songs. He loved to act and put on crazy costumes. During the holiday break he and a couple friends were hiking up in the mountains and he decided to act like Bear Grylls. In this British accent he filmed himself hacking away at this pool of ice, ripping away this chunk, taking a huge bite out of it and saying, 'That was such a nice piece of ice.' Satire was a huge part of Kade's personality."
Like most who knew Kade, his family has spent the last few days trying to make sense of the senseless. No warning signs prefaced Kade's passing, Jared said. Hirschi said Kade was looking forward to his next adventures, deciding between exploring a firefighting career, becoming an Idaho Fish and Game officer, or moving to St. George, Utah, to lead guided hikes in and around the Red Cliffs National Conservation Area.
"The more I have heard from his friends the last few days I get to thinking about these last few months and weeks as he was talking about his future," Jared said. "He talked about wanting to be a firefighter or going down to St. George. There was just no indication this was coming. Zero. I believe that something may have happened at school on Monday and the weight of the world just crashed down upon him. I think this was an impulsive thing. People are going to ask why and wonder what they could have done but I don't want them to get hung up on that. He was just going through typical teenager stuff."