November 28, 2018
560 Views
Patients of the Nova Southeastern University orthodontics clinic in Davie may have been exposed to viruses, including HIV, hepatitis B and hepatitis C, due to a failure by some dentists to properly sterilize equipment, university administrators said Tuesday.
NSU officials informed patients of their possible exposure to disease on Nov. 23 in a letter signed by Linda Niessen, dean of the College of Dental Medicine. The orthodontics clinic on 3200 South University Drive is one of 12 dental facilities operated by the university and the only clinic affected.
Niessen's letter to patients did not identify the viruses they may have been exposed to nor did it describe the sterilization process that some post-doctoral residents failed to follow.
Brandon Hensler, an NSU spokesman, said Tuesday that some post-doctoral residents — dentists who were training in orthodontics — at the clinic had failed to sterilize equipment.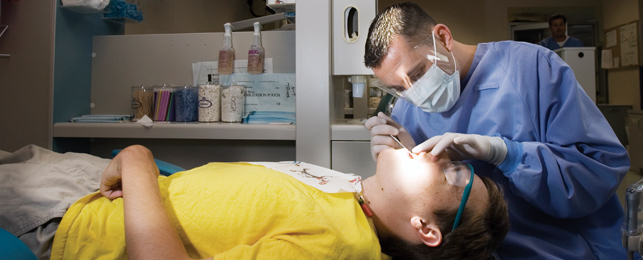 "Instead of the called-for complete heat sterilization process, equipment received a surface disinfectant wipe," he said in a written statement.
"This created a minimal risk for possible exposure to certain viruses for some of our orthodontics patients," Niessen said in the letter to patients.
Hensler said NSU consulted with the Centers for Disease Control and Prevention and an independent infection control expert about the lapse in protocol, and that the risk of patients being infected was "extremely low."
NSU sent letters to 1,152 patients who were potentially exposed to infection through three procedures: those who had braces placed on their teeth, braces removed from their teeth or a bracket repaired. The university did not say over what time span patients at the clinic may have been exposed.
Hensler said NSU will cover the costs if notified patients consult with a doctor of their choice and if they receive a blood screening at an independent testing laboratory. For more information, patients can call NSU at 954-262-4144 or 954-262-1868.
Kyle Fisher, an NSU vice president, said all of the post-doctoral residents who work at the orthodontics clinic on University Drive have received degrees from U.S. dental schools and are authorized by the state to practice dentistry as part of NSU's program.
The Florida Department of Health declined to say whether the agency had been informed that patients may have been exposed to viruses.
Nick Van Der Linden, a health department spokesman, said the agency cannot disclose whether it received a complaint or if the department plans to take action against the NSU clinic or any dentists unless the Board of Dentistry, which regulates dentists, finds "probable cause" that a health violation occurred.
Source: wptv.com
Photo Credit: Orlando Sentinel