March 13, 2018
360 Views
Amid a political earthquake in Washington following the sudden firing of Secretary of State Rex Tillerson, President Trump has arrived in California where he'll review several design prototypes for his proposed wall along the U.S.-Mexico border.
The president's visit is his first to the country's most populous state since taking office, and comes just one week after his Department of Justice announced its plan to sue California over "obstructing federal immigration enforcement efforts."
Ahead of his arrival, the president tweeted that "thousands of dangerous, violent criminal aliens are released" as a result of California's immigration sanctuary policies.
Donald J. Trump

✔@realDonaldTrump

California's sanctuary policies are illegal and unconstitutional and put the safety and security of our entire nation at risk. Thousands of dangerous & violent criminal aliens are released as a result of sanctuary policies, set free to prey on innocent Americans. THIS MUST STOP!

55.8K

31.7K people are talking about this
Twitter Ads info and privacy
On Monday California's governor, Democrat Jerry Brown, shared on Twitter a letter he wrote to the president, saying his state "thrives because we welcome immigrants and innovators across from across the globe."
View image on Twitter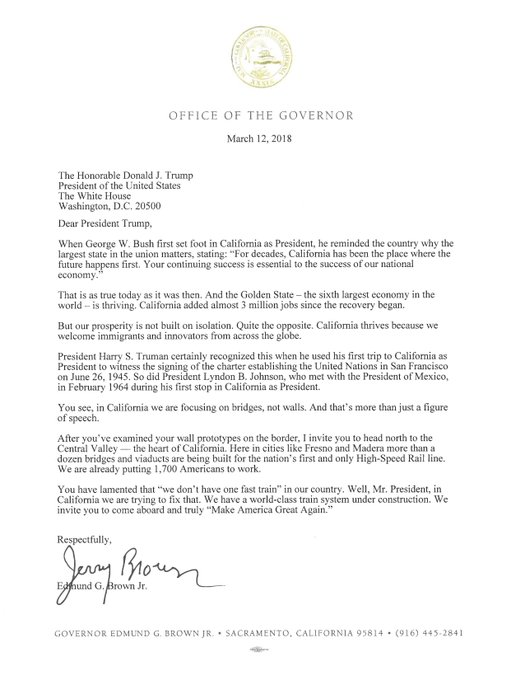 Jerry Brown

✔@JerryBrownGov

Dear @realDonaldTrump…

5,266

2,929 people are talking about this
Twitter Ads info and privacy
"You see in California we are focusing on bridges, not walls," Brown said. "After you've examined your wall prototypes on the border, I invite you to head north to the Central Valley — the heart of California. Here in cities like Fresno and Madera more than a dozen bridges and viaducts are being built for the nation's first and only High-Speed Rail line."
Construction of the eight wall prototypes in the San Diego area were completed in October of last year. Six companies were chosen to build eight sample walls — four made of concrete and four of other materials — according to the U.S. Customs and Border Protection.
The White House has called for $18 billion in funding for the wall's construction, but that demand has remained in limbo after the administration sought to pair it with a deal to grant legal status to recipients of the Deferred Action for Childhood Arrivals, or DACA, program.
Following the president's tour of the wall designs, he will deliver remarks to troops stationed at Marine Corps Air Station Miramar. In the evening, Trump will attend a GOP fundraiser in Beverly Hills.
Source: ABC News (ALEXANDER MALLIN)
Photo Credit: Playbuzz
Photo Credit: ABC7 News
Photo Credit: WHSV.com