November 19, 2019
237 Views
An Ohio restaurant patron was so upset about a fellow customer breastfeeding her child without covering up that she apparently called the police.
The customer at Already Cafe & Espresso Bar in Sharonville raised concerns with the shop's owner, Viktoria Reddy, who said the woman was "not being quiet" about the breastfeeding mom on Friday.
Reddy told the Cincinnati Enquirer the customer complained to a server, and "next thing we know, the police are at the door."
The mother, Reddy said, might not have been aware of the other customer's complaints regarding her, and was gone by the time police arrived.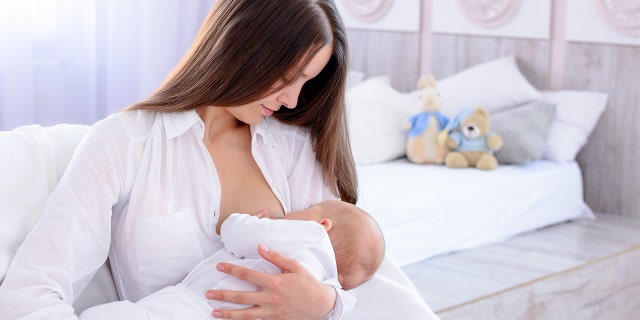 In Ohio, mothers can breastfeed their babies "in any location" where a mother is allowed to be. (iStock)
Per Ohio state law, breastfeeding is legal "in any location" where a mother is allowed — which police reportedly told the unhappy customer.
"The customers did end up leaving, not eating, and kind of upset that it wasn't taken more seriously for them," Reddy said to WLWT, adding she supports breastfeeding and "[wishes] more moms did it."
Reddy said uncomfortable customers can be reseated in her shop, but she was working in the kitchen as the incident unfolded.
Sadie Durbin breastfeeds her child.Facebook
A Kentucky mom is suing a Texas Roadhouse restaurant that she says tried to force her to cover up while breastfeeding her 7-week-old daughter — after a manager tossed a napkin over the baby's head.
Sadie Durbin claims in the lawsuit, filed at Jefferson County Court, that she suffered "extreme and severe emotional distress" after a 20-year-old manager, David Mitchell, told her to cover her breast and her baby's face with a napkin as she was breastfeeding her child at the St. Matthews eatery last week, the Louisville Courier-Journal reported.
"So it happened… after nursing my children all over the city of Louisville (and many others) for 4+ years, it happened to me," Durbin wrote in a Facebook post. "David Mitchell, a manager at the Texas Roadhouse on Shelbyville Road, brought me a napkin and tried lying it over my 7 week old nursing infant's face as he explained that he had another patron complain and that he really needed me to cover up. I politely explained to him it is against the law for him to ask me to cover up and that I was well within my rights to feed my baby."
"Oh ma'am, we need you to cover up. We're getting a lot of complaints,'" Durbin recalled Mitchell told her before he "angrily" threw a napkin at her child's head, the post continues.
Durbin's lawsuit claims Texas Roadhouse failed to properly train employees in accordance with Kentucky law. A statute passed in the state in 2006 protects women's right to breastfeed in public.
"No person shall interfere with a mother breastfeeding her child in any location, public or private, where the mother is otherwise authorized to be," state law KRS 211.755 reads.
A Texas Roadhouse spokesperson told the Courier-Journal that Mitchell was taking paid time off following the incident. The spokesperson added that Mitchell has received death threats after Durbin identified him on social media.
Still, the chain apologized for Mitchell's behavior.
"[Texas Roadhouse] supports the rights of all mothers to breastfeed their children in public, including in our restaurants," the company said.
"Unfortunately, our manager's handling of this situation was misguided and wrong."