Pastor Robin Bullock, who describes himself as operating "heavily" in the prophetic realm, claimed during a Tuesday church service that prophets will call back former President Donald Trump "for three terms."
Many Christian leaders and believers have been ardent supporters of Trump since his election in 2016. A number of self-described "prophets"—including Bullock—predicted that Trump would easily win reelection in 2020, which turned out to be inaccurate. While some have admitted they were wrong and have apologized, Bullock still believes that he was correct and that Trump continues to be the legitimate president, according to his Tuesday remarks.
"The stage is set," Bullock said in his sermon, which was first reported by Right Wing Watch. "But you're going to have to pray for the rightful president, whether he wants to walk back into this or not. You must pray that he wants to do it, because God won't make him do anything. Is it his will? Yes. Is he the president? Yes. That's why he could just walk right back in, and God will supernaturally move things out of the way."
Bullock, who is the founder of Alabama's Youth Force Ministries Church International and hosts the weekly "prophetic" YouTube program The Eleventh Hour, said it was apparent Trump was still president when "all you have to do is listen to him. He's the president."
Ads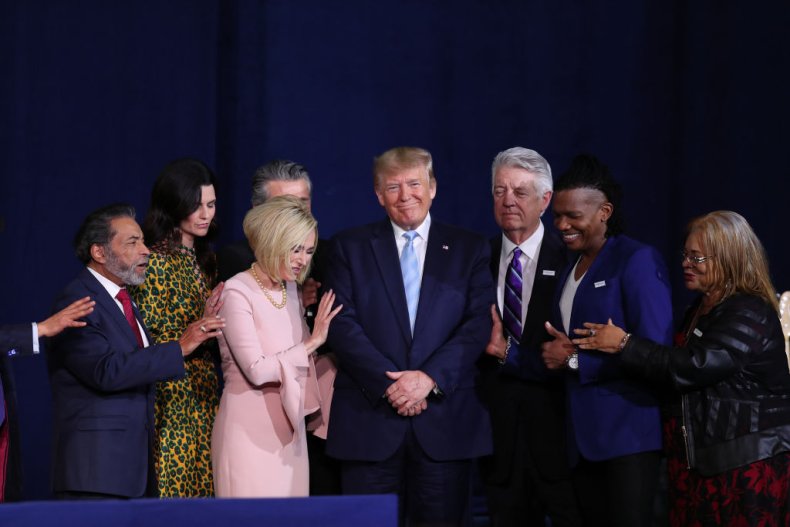 "We're gonna have to start publicly talking about that he's the president. I know they will say, 'Really? Why would you say that in public?' Because he is!" Bullock continued. "Don't mess with us, Satan. Don't mess with us, corrupt political regimes. Don't mess with God's people like that, because I'm going to tell you something: If you mess with us, we'll call him back for three terms. Don't mess with us."
Newsweek reached out to Bullock for further comment but did not immediately receive a response.
Jeremiah Johnson, who previously led Jeremiah Johnson Ministries, also prophesied that Trump would win reelection in 2020. However, Johnson announced this week that he would end his ministry after admitting he was wrong and apologizing to his followers. He said that he'd received "90 percent negative" feedback on a series of YouTube videos titled "I Was Wrong."
"I believe that this election cycle has revealed how desperately we need reformation in the prophetic movement," Johnson said in a video he posted in early February. "I have serious concerns for the charismatic-prophetic world that, if we do not wake up, if we do not humble ourselves, there is greater judgment to come."
White evangelical Christians have been a key base of support for Trump since his 2016 election. That year, about eight in 10 white evangelical Christians said they voted for the former president, according to exit polls.