November 10, 2019
346 Views
Wesleyan House Methodist International Church is a 22-storey high-rise in Wan Chai, topped with a Sky Chapel that has breathtaking views of the city
Architect Rocco Yim conceived the structure and wanted it to be 'enlightening, liberating, and comforting'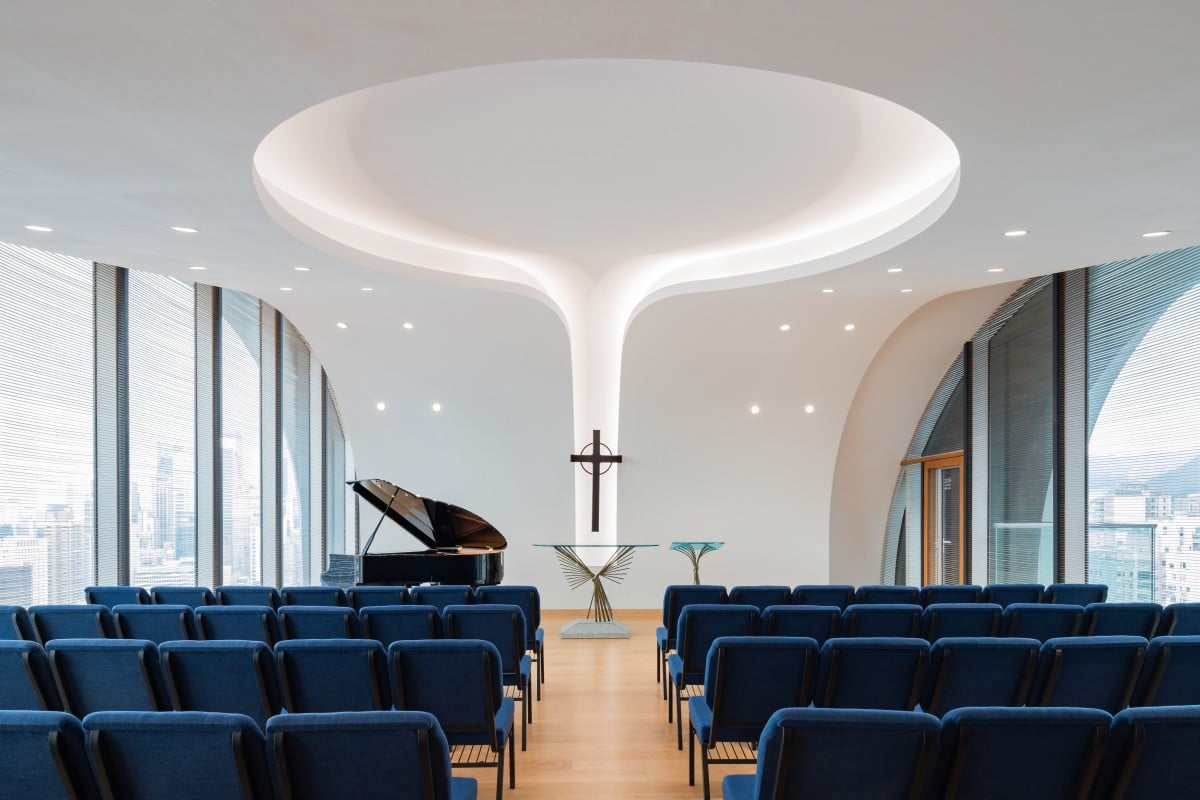 The Sky Chapel 22 floors up in Wesleyan House Methodist Church, Wan Chai, Hong Kong, designed by local architect Rocco Yim, makes maximum use of natural light and offers panoramic views of Hong Kong.
Hong Kong architect Rocco Yim had always wanted to design a church. The appeal of a building where moneymaking was not the raison d'être was strong, and Yim's prayers were answered when his firm, Rocco Design Architects Associates, was assigned the redevelopment of Wesleyan House Methodist Church, in Wan Chai.
Years earlier Yim had designed a chapel attached to a kindergarten in Fanling, in Hong Kong's New Territories, but this was a full-scale church, serving a regular congregation of 800, with an open-door policy that welcomes all visitors.
It was to have separate venues for worship, weddings, funerals and youth activities; facilities for the church's outreach services (including a dental clinic); and a residential component for seven clergy and their families. In all, facilities requiring 11,000 square metres (118,400 square feet) of space had to be accommodated on a site with a footprint of only 800 square metres. There was no other solution: the building had to go up.
And so evolved a 22-storey skyscraper church, completed last year, that the architect conceived to be "enlightening, liberating, and comforting" and that would draw in worshippers and passers-by at the busy junction of Queen's Road East and Kennedy Road – even if just to shelter from the rain or sun.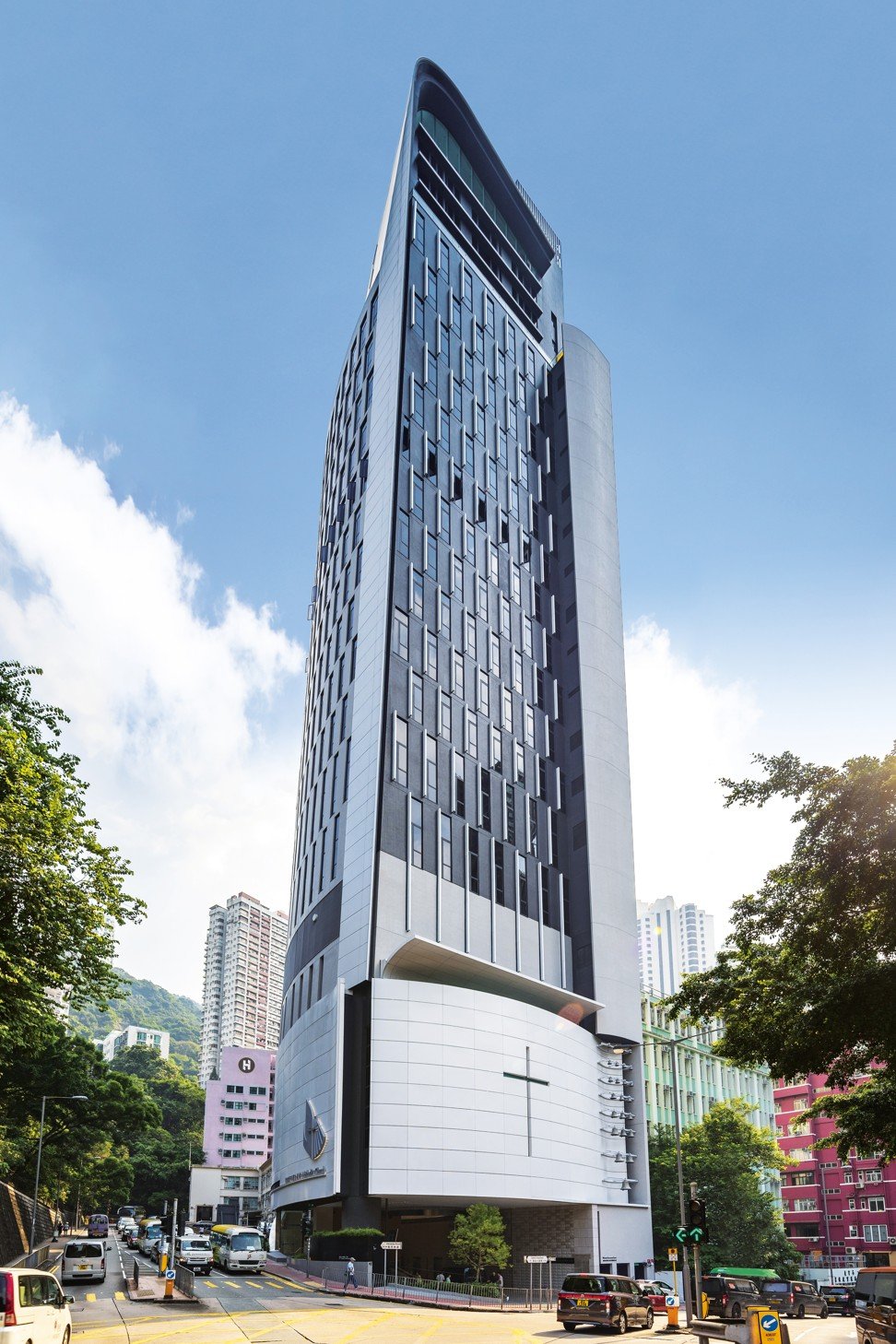 The exterior of Wesleyan House Methodist Church in Wan Chai.Share:
Key to the welcoming ambience the client had specified is that there is no rigid boundary between the neighbours and the church. "The ground floor is completely open. You don't feel you have to push a door. It's very inclusive," Yim says.
This might not look like a conventional church, but subtle architectural features – a podium at the bottom, the tower slanting gently from the base to the top – differentiates Wesleyan House from the surrounding office buildings.SUBSCRIBE TO POST MAGAZINEGet updates direct to your inboxSUBMITBy registering, you agree to our T&C and Privacy Policy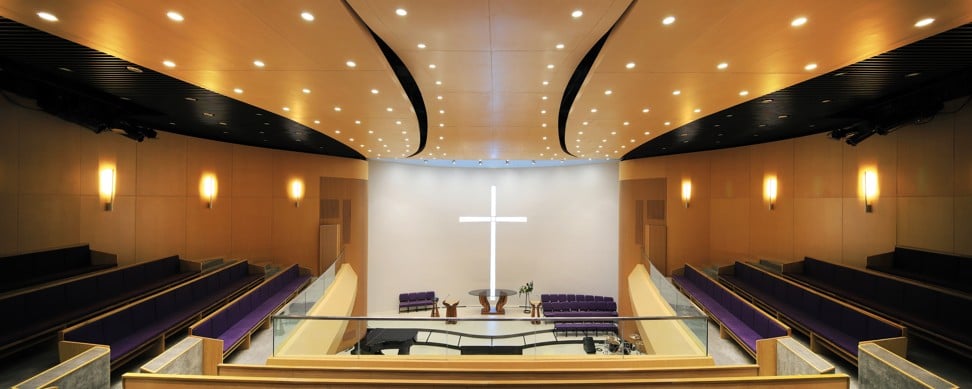 The second floor main sanctuary in Wesleyan House Methodist Church.Share:
Another defining feature is the staggered windows, and the mix of old stone (from the original building) and new stone on the lower level. Viewed from outside, the contiguous form of the white facade mimics the vestment a vicar might wear. Guiding people towards the entry are a simple aluminium cross on one side, and the carillons (chimes), now electronic, on the other.
The spaces inside are "fluid and uplifting", culminating with the Sky Chapel at the top that has harbour views to the north, and green hills to the south.To create a place for peaceful and solemn worship, natural light is focused on the altar with, as a backdrop, an eight-metre-high wall in pure solid white, punctuated by a casement window in the shape of a cross. The ceiling is sculpted like a cupola (the top of a dome), creating an enchanting 3D effect that softens and diffuses the interplay of sunlight and recessed LEDs. Acoustic tiles, plastered over and painted white, blend invisibly into the curves.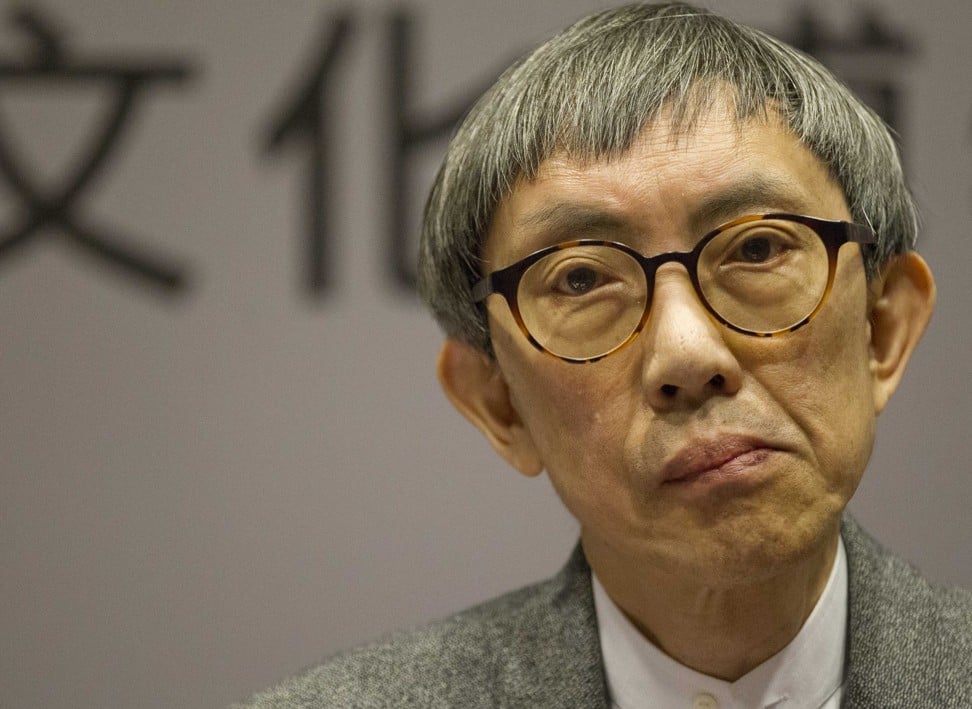 Rocco Yim, one of Hong Kong's leading architects, designed Wesleyan House Methodist Church. Photo: EyePress NewsShare:
"It's an optical illusion: on the plan, the ceiling is an ellipse," explains architect Freddie Hai, a director at Rocco Design. "We played with the materials' width and height, and experimented with 3D software, to create that effect."
As you "journey" through the building, the religious paraphernalia one might expect of a church are noticeably absent. This follows the design brief to "project a sense of frugality and simplicity", but it also underscores the inclusivity of this parish.
For Filipinos to gather on their day off – after a service conducted in Tagalog – there's a sky garden with barbecue, long tables and chairs. For young people, the basement youth activity room invites free expression. The altar doubles as a performance stage, while a series of Chinese screen paintings depicts Bible teachings in subtle ways.
It may not be to everyone's taste, but I think a trend in many of the religious institutions, not just in the architectural style of the church, but in the type of service, is much more towards the informal and youthful than 20 years agoRocco Yim
In between the Sky Chapel and basement are halls for services of various sizez, for fellowship, adult education, Sunday school and seminars, as well as a children's zone, administration areas and a residential level for the pastoral workers.
The Methodist Church has been active in Hong Kong since the first missionaries arrived in 1893. In building for the 21st century, Yim was entrusted to design "a beacon church" with the capacity to welcome people from all nations, offering worship in different languages, along with facilities for "proper hospitality".
Yim believes its contemporary style is relevant for modern generations "who want informality rather than rigid rituals". Even so, the place is "filled with spirituality", he says.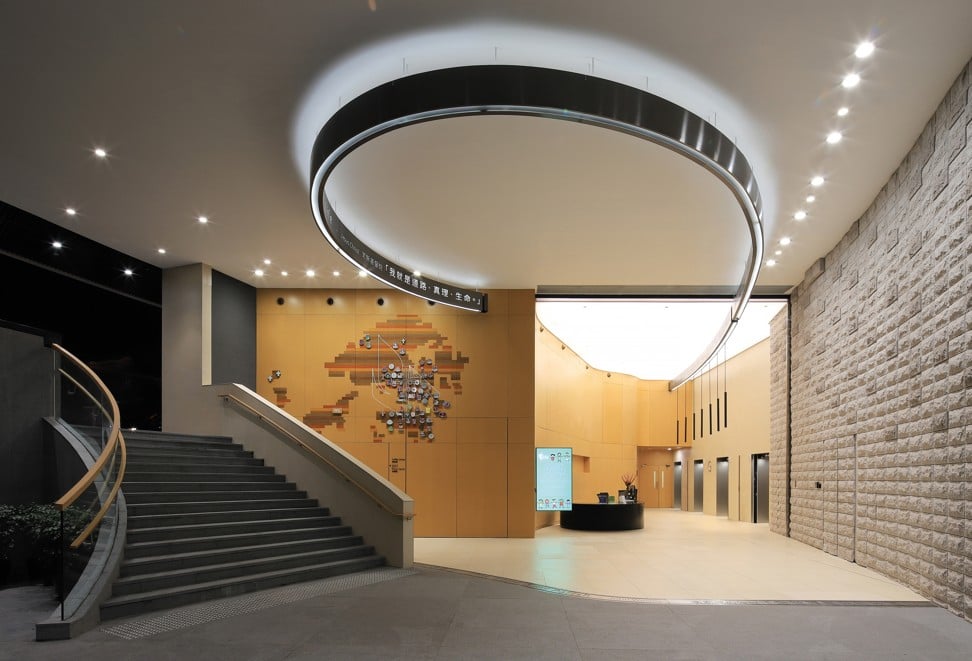 Part of Wesleyan House Methodist Church's ground floor, covered open piazza.Share:
"It may not be to everyone's taste, but I think a trend in many of the religious institutions, not just in the architectural style of the church, but in the type of service, is much more towards the informal and youthful than 20 years ago," he says.This article appeared in the South China Morning Post print edition as: How skyscraper church helps to raise worshippers' sights