May 31, 2018
388 Views
Comedian/actress Roseanne Barr lost her Roseanne reboot on Tuesday (May 29) after she fired off a racist tweet aimed at former Obama aide Valerie Jarrett.
After issuing what many deemed an insincere apology, Barr deleted it and suggested her actions were influenced by the sleep medication Ambien.
TMZ caught up with T.I. in West Hollywood on Tuesday night. When asked if Barr deserved to get her show cancelled, he replied, "If she said what she said, hell yeah. If she really said what she said, hell yeah she did."
The Grand Hustle boss was then asked if she gets a pass for being on Ambien.
"No more than crack dealers for a robbery," he said. "If somebody can go commit a robbery and say, 'Hey I was high on crack that night.' If not, you're always going to be held accountable for your actions."
The pharmaceutical company that produces Ambien also replied to Barr's tweet and reminded her "racism is not a known side effect."
The incident set off a firestorm of debates. Some argued that because Barr is a comedian, she should be able to make jokes, while others were adamant her "joke" was unacceptable.
It also had her Roseanne co-stars fuming and embarrassed on Twitter.
Thanks to Barr's tweet, it closed the chapter on the groundbreaking sitcom that began 30 years ago and was only recently resurrected.
With ABC's decision to pull the plug on Roseanne — the network's highest rated sitcom since its return in March — Sara Gilbert (Darlene), Micheal Fishman (DJ), Laurie Metcalf (Jackie Harris), John Goodman (Dan), and the rest of the cast and crew are out of a job.
Gilbert and Fishman took to Twitter to express their sadness over the entire situation, while Barr chided them for being disloyal.
See their reactions below.
End of the show statement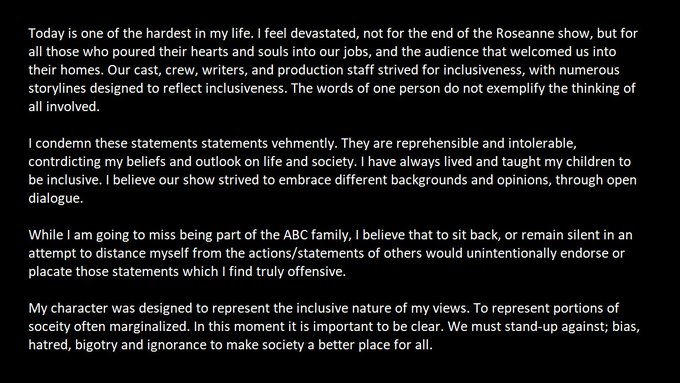 Michael Fishman

✔

@ReelMFishman

13.7K

3,805 people are talking about this

Michael Fishman

✔

@ReelMFishman

pic.twitter.com/rLKGEHvl4f

Roseanne Barr

✔

@therealroseanne

i created the platform for that inclusivity and you know http://it.ME . You throw me under the bus. nice!

2,781

1,848 people are talking about this

sara gilbert

✔

@THEsaragilbert

This is incredibly sad and difficult for all of us, as we've created a show that we believe in, are proud of, and that audiences love— one that is separate and apart from the opinions and words of one cast member.

58.5K

25.7K people are talking about this

sara gilbert

✔

@THEsaragilbert

Roseanne's recent comments about Valerie Jarrett, and so much more, are abhorrent and do not reflect the beliefs of our cast and crew or anyone associated with our show. I am disappointed in her actions to say the least.

98.9K

27.3K people are talking about this
Source: Hip Hop DX (Kyle Eustice)
Photo Credit: That Grape Juice
Photo Credit: Hip Hop DX
Photo Credit: TMZ