September 20, 2019
1020 Views
Alanta fire crews douse the blaze Friday morning at an abandoned church building on Clifton Street near Alonzo A. Crim Open Campus High School.Photo: JOHN SPINK / JSPINK@AJC.COM
1 treated after large fire at church across from SE Atlanta high school
A blaze at an abandoned church building shut down traffic and sent flames into the air Friday near a southeast Atlanta high school.
Firefighters worked much of the morning to put out hot spots at the former Gospel Tabernacle Cathedral on Clifton Street, which is across the street from Alonzo A. Crim Open Campus High School. The fire was contained by 7:15 a.m., after the roof and much of the front of the building collapsed.


WATCH: BREAKING- The Cross at Gospel Tabernacle on Clifton Street in #Atlanta – http://ajc.com 3:39 AM – Sep 20, 2019Twitter Ads info and privacySee John Spink's other Tweets
The flames were too strong for firefighters to enter the building when they arrived just before 6 a.m., Atlanta fire spokesman Sgt. Cortez Stafford said. They had to cut through a locked gate to even access the property.
The decision was made to get the blaze under control before they sent crews inside to search. There was evidence of people coming and going at the abandoned church, which was known to house the homeless over the past year it sat vacant, Stafford said. ADVERTISING

WATCH: One hurt as Crews fight large church fire across from SE #Atlanta high school – – https://tinyurl.com/y34panu6 24:44 AM – Sep 20, 2019Twitter Ads info and privacySee John Spink's other Tweets
"We still took the chance to go inside this building after we got a knockdown on the fire and search every room and every crevice of this church to make sure no one was inside, due to the fact that we did have information that people may have lived in there," he said. "Fortunately, no one was found inside."


WATCH: BREAKING- Firefighters battling large church fire at Gospel Tabernacle on Clifton Street in #Atlanta – http://www.ajc.com 23:26 AM – Sep 20, 2019Twitter Ads info and privacySee John Spink's other Tweets
One person was being treated for smoke inhalation. Stafford said the man may have been sleeping outside the church and breathed in too much smoke while he was trying to gather his belongings.
The cause of the fire remains under investigation.
An Atlanta firefighter emerges from the charred remains of the former Gospel Tabernacle Church on Clifton Street. The abandoned building was heavily damaged by a fire Friday morning.Photo: JOHN SPINK / JSPINK@AJC.COM
When the full strength of fire crews were on scene, Clifton Street was blocked near Memorial Drive, according to the WSB 24-hour Traffic Center. A smaller contingency remained through the morning to monitor for any flare-ups.


Atlanta Fire Rescue✔@ATLFireRescue

277 Clifton Street, #fire at a large abandoned church. Heavy fire showing on arrival. Fire is knocked down & contained at this time. One male being checked out for smoke inhalation. #AFRD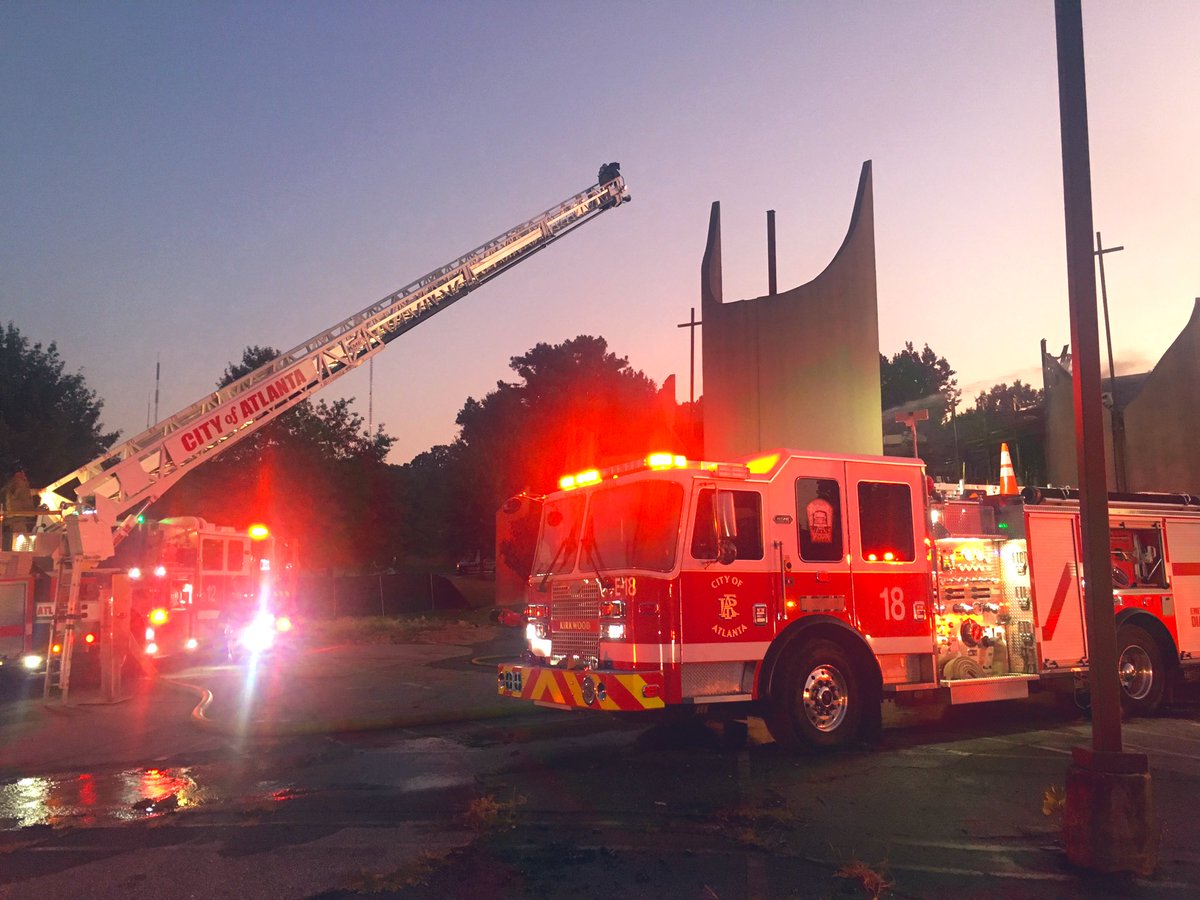 104:15 AM – Sep 20, 2019Twitter Ads info and privacySee Atlanta Fire Rescue's other Tweets
The building was one of two Gospel Tabernacle Cathedral locations in metro Atlanta run by prominent pastor Wiley Jackson. Jackson and his brother, Rodney Jackson, paid out $90,000 to investors after they were indicted on charges they sold investments without a license. The charges were dropped after the payments were made in 2013. Another brother, Jerrick Jackson, was killed while resisting robbers the same year.
RELATED:
Man gets 25 years for role in crime that killed pastor's brother
2 more men admit murdering brother of mega-church preacher
His death and resulting criminal case was recently featured on the TVOne true-crime show "ATL Homicide." It appears both Gospel Tabernacle locations are closed, but Jackson is currently holding church services on the Crim High campus.
Atlanta Public Schools said school was continuing as normal Friday after staff members helped students arriving on foot to get around the roadblock. The alternative-education high school, named for Atlanta's first African-American superintendent, is set to graduate its last class in 2020 before closing for good. Roughly 200 students are enrolled this fall, The Atlanta Journal-Constitution previously reported.