May 19, 2020
96 Views
The pastor of a northern California church has been diagnosed with the coronavirus after holding a Mother's Day livestream service with singing, according to officials. The congregation was not present. It was only the pastor and his praise and worship team. They were standing behind him.
A health order issued by the county had specifically restricted singing during church services due to the high risk of spreading the virus through air droplets. Now at least three confirmed cases have been linked to the event, a press release from Mendocino County announced Monday.
The two other cases are from Lake County, with one person being treated in the hospital, according to a release.Churches throughout the country have continued to hold services despite orders in many states banning large gatherings, even in religious settings.
Mendocino County officials said Sunday a Mother's Day church service is to blame for an intercounty coronavirus outbreak of three people, including the county's 14th confirmed case of COVID-19 — an elderly Ukiah Valley man.
Health officials determined the infected man came in contact with two Lake County residents who recently tested positive, after being present May 10 at an inland Mendocino County church that broadcast services via livestream to others at home, Mendocino County officials said in a prepared statement.
The church was not identified, but county officials say they have encouraged the house of worship in question to self-identify "in order to encourage members of the church to seek testing for COVID-19 and medical attention if needed."
One of the Lake County residents who participated in the Mother's Day church service at the venue was taken Saturday to Adventist Health Ukiah Valley. The elderly Mendocino County resident, as well as the other Lake County resident, are in self-isolation at home, officials said. Lake County now has eight confirmed COVID-19 cases.
Mendocino County came under fire last month in response to its public health emergency order that barred churches from conducting livestreaming activities outside of a residence and involving people from multiple households.
In an April 17 letter, the law firm Tyler and Bursch, LLP, demanded the county change its order, calling it unconstitutional. The law firm, with offices in Orange and Riverside counties, represents Pastor Kevin Green of Calvary Chapel in Fort Bragg and Pastor Les Boek of Calvary Chapel in Ukiah, both of whom conduct livestreaming church services.
Mendocino County CEO Carmel Angelo said in a phone interview Sunday the recent infection of three people did not occur at either of those two churches.
In its statement, Mendocino County officials reiterated new public health guidance for livestreaming church services, saying it's "critical" for organizations to implement required safety measures, including using plexiglass screens between singers in the same venue, proper ventilation and more.
"The additional safety measures while (singing) can help prevent outbreaks seen in other areas of the country," according to the statement.
Through its contact tracing program that involves testing close contacts of people infected with COVID-19, Mendocino County officials say they sought to not only learn the source of the infection tied to the church, but also to ensure that contacts without virus symptoms were quarantined and symptomatic contacts were tested and isolated.
It wasn't immediately clear whether those contacts of the three people connected with the church had been identified, or how many of each had been identified. Angelo said she didn't know how many people were present at the Mother's Day church service.
Mendocino County is offering free virus testing 7 a.m. to 2 p.m. Tuesday at Redwood Valley at Eagle Peak Middle School, and officials are encouraging any asymptomatic residents who participated in the production of the livestreamed Mother's Day church service with singing at an inland Mendocino County church — or their close contacts — to come for free testing.
Residents who have virus symptoms, though, are encouraged to contact their doctor.
In North Carolina, a judge issued a ruling Saturday that would temporarily allow indoor worship services to resume, according to CNN affiliate WNCN, after a lawsuit argued Gov. Roy Cooper's executive order violated constitutional rights.Content by CNN UnderscoredRetailers are offering major sales in honor of healthcare workersIf you're a medical professional or first responder, you can find savings on a variety of products that might make life a little easier right now.
The northern California church confirmed that its pastor was diagnosed with the virus on social media after participating in person with the service, the county said.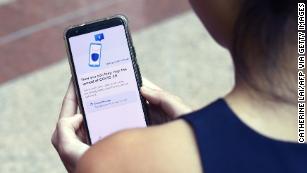 Anyone who has recently visitedthe Assembly of God church in Redwood Valley or has been in contact with someone who has was urged to contact the county and get tested for coronavirus, the release said."Mendocino and Lake County Public Health are working together to reach any other individuals who are contacts with these three new cases, including anyone who participated in the live stream church service with singing," according to the Mendocino.Free testing is being provided on Tuesday at a local school for those that may have been exposed.
Second California church linked to coronavirus cases over Mother's Day
This is the second church in northern California linked to the spread of the coronavirus during Mother's Day services.Last week Butte County Public Health announced an individual who had attended a Mother's Day church service in the county had tested positive for the coronavirus.That person may have exposed as many as 180 people who were in attendance for the service at Palermo Bible Family Church.