October 16, 2019
344 Views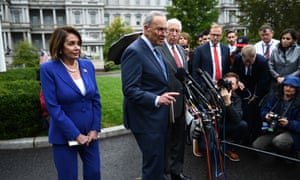 Vivian Ho in San Francisco (now) and Joan E Greve in Washington and Lauren Aratani in New York (earlier)
If you're just tuning in today, the buzzwords of the last hour or so are "third-rate politician", possibly "third-grade politician", "a very serious meltdown" and "world's most overrated general". All great Halloween costume ideas!
However, it should be noted that there is some dispute over the insult in question:
The White House responds to House Speaker Nancy Pelosi and her description of President Trump having a "very serious meltdown":
Unlike many news organisations, we chose an approach that means all our reporting is free and available for everyone. We need your support to keep delivering quality journalism, to maintain our openness and to protect our precious independence. Every reader contribution, big or small, is so valuable.
Trump calls Mattis "the world's most overrated general"
According to multiple reports, President Trump lashed out at former secretary of defense Jim Mattis – a retired Marine Corps general.
Meanwhile, amidst reports on this "very serious meltdown", President Trump tweets:
Here's more from House Speaker Nancy Pelosi on President Trump and his "very serious meltdown":
Hey all, Vivian Ho with the west coast bureau here. Let's see where the rest of today takes us.FacebookTwitter
That's it from me today. The Guardian's west coast team will take over the blog for the next couple of hours.
Here's where the day stands so far:
The House overwhelmingly voted to condemn Trump's decision to withdraw US troops from northern Syria, with about two-thirds of the chamber's Republicans backing the resolution.
Nancy Pelosi said Trump had a "meltdown" during a White House meeting on Syria, and Chuck Schumer added that the president called the House speaker "a third-rate politician."
Senate majority leader Mitch McConnell intends to wrap up a trial on whether to remove Trump from office by the end of the year if the House votes to impeach him.
Another associate of Rudy Giuliani's was arrested for allegedly violating campaign-finance laws.
Tax documents from the president's company include major discrepancies, according to ProPublica.
The Guardian team will have more on the news of the day, so stay tuned.FacebookTwitter
Trump to Erdogan: 'Don't be a fool!'
According to a letter obtained by a Fox Business reporter, Trump wrote a letter last week to Turkish President Recep Tayyip Erdoğan urging him to avoid a humanitarian disaster in Syria.
The letter, which is dated October 9, begins: "Let's work out a good deal! You don't want to be responsible for slaughtering thousands of people, and I don't want to be responsible for destroying the Turkish economy — and I will."
Trump concludes the letter: "Don't be a tough guy. Don't be a fool! I will call you later."
The White House confirmed the letter's authenticity to multiple reporters, and Trump referenced it earlier today when asked whether he was surprised by Erdogan's actions. But one New York Times reporter expressed skepticism about when the letter was sent.
Updated at 4.56pm EDTFacebookTwitter
An ABC News reporter noted that the Syria meeting marked the first face-to-face interaction between Trump and Nancy Pelosi since the House speaker formally launched an impeachment inquiry against the president late last month.