A clip of a pastor condemning singer Lil Nas X's "Satan shoes" is going viral on social media, having been viewed more than a million times on Twitter.
The clip of Pastor Jentezen Franklin speaking at the Free Chapel was originally posted to TikTok by user @treyyyb who captioned the clip: "Praying for those that are misled," where it has been viewed more than a quarter of a million times.
The video was then shared on Twitter by @JayViewHz and retweeted by Lil Nas X who said: "we are in a pandemic and there is a mass shooting every week but y'all are gathering in church to discuss shoes lmaooo".
we are in a pandemic & there is a mass shooting every week but y'all are gathering in church to discuss shoes lmaooo https://t.co/PW9Szwd8KB

Ads

— nope 🏹 (@LilNasX) March 30, 2021
The full sermon that the clip was taken from was posted to the Free Chapel's YouTube page where it has been viewed more than 30,000 times. In the sermon, Franklin says that his daughter sent him the music video and called it "downright scary."
Franklin says: "I'm not picking on this young man, he needs Jesus, he just needs Jesus, that's all," before adding that Lil Nas X "looks like a nice guy" and "he has no idea maybe, what he's playing with."
According to Cigna's Resilience Index, resiliency is at risk for 3 in 5 Americans. But resilience is a skill that you can build up over time. Visit our resources page to learn how to G.R.O.W. and to take the resiliency questionnaire. www.CignaResilience.com #CignaSoCalSee More
He tells his audience: "He has a video he's put out of a song, he's embraced the gay lifestyle, and this video just came out Friday and it's had 12 million views. And it's unbelievable, I watched it and he actually has a homosexual orgy with Lucifer himself in the video.
"I've never seen anything—I thought I had seen it all. This is on a different level."
Then, as seen in the viral clip, he then condemned Lil Nas X and MSCHF's "Satan shoe" collaboration and said: "And then he has his own shoe. Now don't get mad at Nike because Nike didn't do this, it's a long story. But it's not Nike's fault this happened.
"But I've got to read this because I could not believe what I was seeing."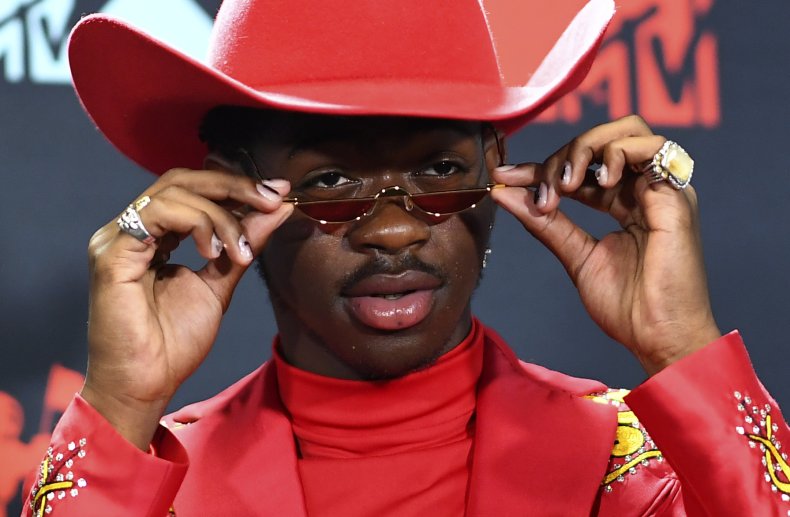 Franklin then appears to read a description of the shoes from Page Six, who said: "On the heels of his controversial 'Montero (Call Me By Your Name)' music video, Lil Nas X is doubling down on the demonic imagery with new Nike release, 'Satan Shoes.'
"The classic Air Max '97's have been revamped by collaborators MSCHF with the underworld in mind, coming in a limited edition stock of 666 pairs, each individually numbered 'x/666' in red embroidery. The kicks will also contain 66 CCs of red ink, as well as one drop of human blood."
Franklin also says how the Bible scripture Luke 10:18 (which references Satan's banishment from heaven) is emblazoned on the side and claims that Lil Nas X wants kids to wear the shoes.
He then tells his audience: "There's blood more powerful than that what he is putting in those shoes, and you can come out of the cave, come out of that night into the light, because Jesus went into the light for you."
Lil Nas X's new single "Montero (Call Me By Your Name)" has received widespread praise and was welcomed by fans, but it has also come under fire from conservatives, including Fox News, Candace Owens, and Kaitlin Bennett.
Conservatives, like Pastor Franklin, are also upset about Lil Nas X's "Satan shoes," which sold out in less than a minute. However, it's not only conservatives that are not happy with the shoes, as Nike Inc. has filed a trademark infringement suit against MSCHF Product Studio over the collaboration.
The complaint argues that the design creates a "likelihood of injury to Nike's business reputation and goodwill."
It also says that the shoes created a "likelihood of consumer confusion, mistake, and deception as to the source of origin or relationship of Nike's products and MSCHF's Satan Shoes, and has otherwise competed unfairly by unlawfully trading on and using" Nike's trademarks without permission.
Lil Nas X reacted to the lawsuit on Twitter by sharing a video of Brian Earl Taylor, who remorsefully sang to Washtenaw County Court Judge Darlene O'Brien before her sentencing decision in 2016, and said: "me at nike headquarters tomorrow."