August 19, 2018
198 Views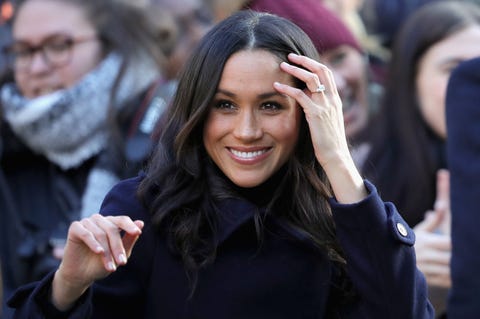 GETTY IMAGES
CHRISTOPHER FURLONG
Meghan Markle is coming home. The Duchess of Sussex reportedly landed in Toronto, where she lived while filming her hit USA series, Suits, on Sunday, according to Royal Central. A source confirmed Meghan's arrival to the known hub of info on all things royal.
Other things we know about Meghan's trip to Toronto:
She flew commercial — on Air Canada, specifically (royals really are just like us).
Kensington Palace reached out to the airline ahead of her trip to request that other travelers not be allowed to take pictures of or approach the duchess (okay, so not exactlylike us).
And, finally, she was traveling alone.
The trip marks Meghan's first solo international travel since her wedding to Prince Harry in May. Meghan is expected to use the trip as a chance to catch up with friends (like the Mulroneys, who still live in Toronto and who are so close to Meghan, their children were actually in the royal wedding).
It's also speculated that Meghan will take a trip home to the United States while she's on this side of the pond. Meghan's mother, Doria Ragland, is reportedly planning a move to the UK to be closer to her daughter and could make the move as soon as next month. If these rumors (and the speculation about the timing) are true, Meghan might be helping her mom pack.
Harry and Meghan are also reportedly planning a joint tour of the United States and Canada in spring of 2019, during which she'll be able to show Harry all of the most meaningful places from her past.
"Meghan and Harry want to solidify ties between the U.K. and the U.S.," a source, described as a palace insider, told Us Weekly. "They want to highlight and foster these relationships."
Ahead of her first royal tour with husband Prince Harry, which will see the couple visit Australia, New Zealand, Fiji, and the Kingdom of Tonga, Meghan Markle has hopped on a flight back to Toronto. Prior to moving to the United Kingdom to be with her husband, Meghan was, of course, based in Toronto, where she filmed all seven seasons of Suits.
The Mirror is reporting that Meghan flew via Air Canada to Toronto, and that the airline was asked to protect the Duchess' privacy during her flight. The publication cites royal news hub, Royal Central, as their source for the information regarding Meghan's flight, with it being alleged that Kensington Palace gave Air Canada strict instructions in a letter about her itinerary, apparently "requesting that no one takes Meghan's picture or approaches her on the flight."
This is Meghan's first solo trip abroad since she became the Duchess of Sussex. It's likely that the royal is savoring some time with the close friends she made in the city when she lived there, prior to a busy few months of official engagements alongside Prince Harry.
Source: elle.com
Photo Credit: Patch