August 7, 2018
187 Views
The last thing Tina Woolum expected to see after a daylong meeting about Lincoln Continentals was the man himself.
Yet there he was, towering above the crowd at Kellogg Park in Plymouth, Mich., in that iconic suit and top hat on a summer day in 2015.
Woolum had worked in the federal government sales department of Ford Motor Co. for more than a decade. This was her first Lincoln sighting.
She stopped him and asked for a photograph. The distinguished man was happy to oblige.
Ron Carley—that was his real name—had first dressed up as the 16th president for a Halloween party three years before. He'd trimmed his beard and dyed his graying hair and put on a tuxedo and stunned himself and everyone else with the likeness.
Ever since, he'd brought the character out on occasion. He shook hands and posed for photos and danced in the park with great-grandmothers. He got a gig at a local Lincoln dealership. He joined the Abraham Lincoln Civil War Round Table of Michigan and traveled to Gettysburg, Illinois and Washington. He took a bus tour to Belle Grove Plantation in King George County and liked the place so much he returned each year for the historic home's Civil War encampment weekend.
That he would marry there as the Great Emancipator himself—that the woman in the park that summer day would be his bride—Carley couldn't have imagined any of that.
"My goal," Carley liked to say, "is simple: Put a smile on people's faces."
With Woolum, he had succeeded.
* * *
A blessing and a bonus
After the serendipitous meeting in Kellogg Park, Woolum went home and looked up Carley on Facebook.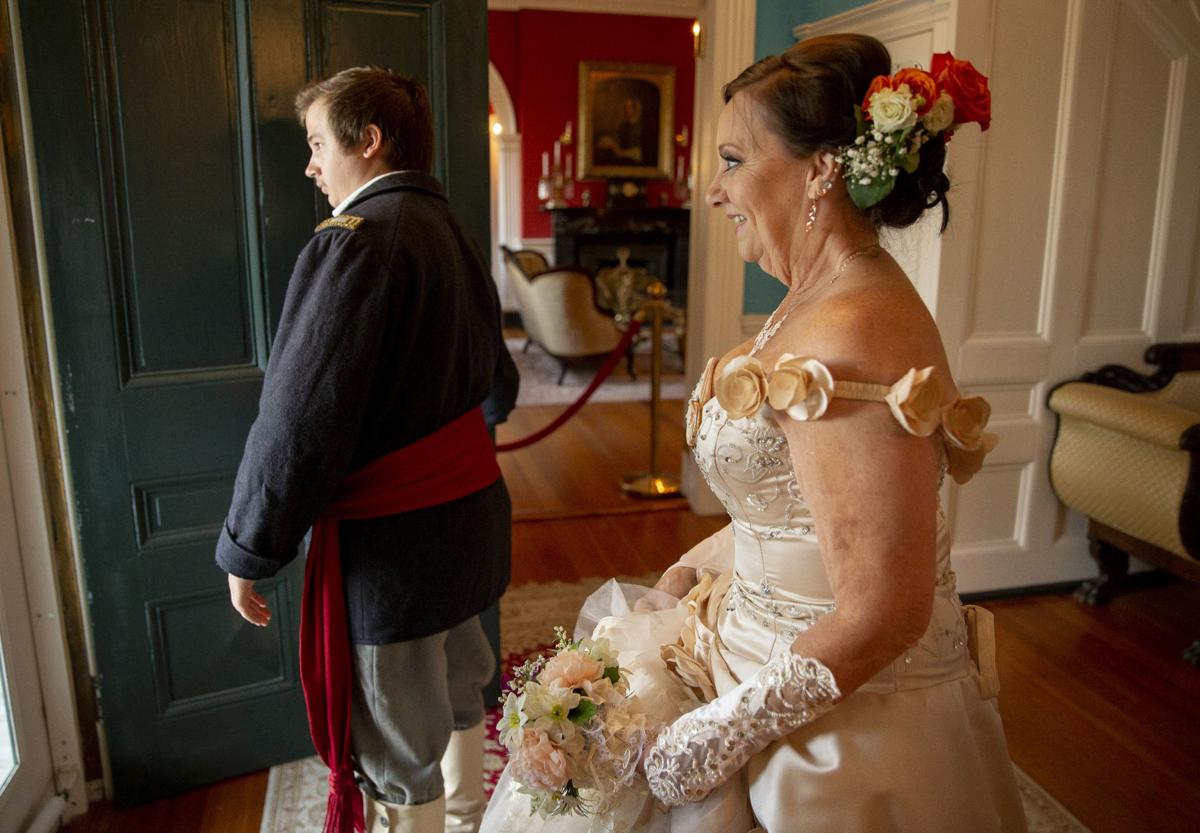 He called himself a Lincoln presenter and educator. He was nearing the end of a decades-long career with a discount auto chain in Detroit in the summer of 2015. He was divorced, with a grown son and an on-again, off-again girlfriend.
Woolum, also divorced with a grown daughter, sent him a Facebook message. Soon, they were meeting every night for dinner, where they talked about everything from Lincoln to Carley's woman troubles. Woolum gave him advice.
"You want her back?" she had asked him. "I'll help ya."
But the more time they spent together, the more Carley began to think it was Woolum he was in love with. The feeling was mutual.
Woolum explained it this way: "Ron is my blessing. Lincoln is my bonus."
She loved that he was the same person whether he dressed in a 19th-century suit or 21st-century street clothes.
"Lincoln was the humblest of the humble," she said, and so was Carley. He was kind and respectful and decent.
When Carley asked if she would accompany him to an event at Belle Grove as Mary Todd Lincoln, she bought a period dress.
When Carley kneeled on the front steps of the historic grand home and asked her to be his Mary Todd Lincoln, she said yes.
* * *
A presidential wedding
Belle Grove Plantation, the birthplace of James Monroe and now a bed-and-breakfast inn operated by Michelle and Brett Darnell, sits just off U.S. 301, down a tree-lined drive. The home rises up at the end of it, a sprawling, columned mansion perched on the banks of the Rappahannock River.
"This is my happy place," Woolum said on an afternoon in late July, one day before she was set to marry her Abraham Lincoln in a period ceremony overlooking the water.
In the three years since they'd met, there had been ballgames and parades and gatherings of Lincoln look-alikes. Once, Carley had been ordered out of Lincoln's Presidential Library for showing up in a period ensemble. He was threatened with arrest at the Lincoln Memorial when, overcome, he stepped over a rope and stood at the base of the statue and raised his arms to a sea of clicking camera phones.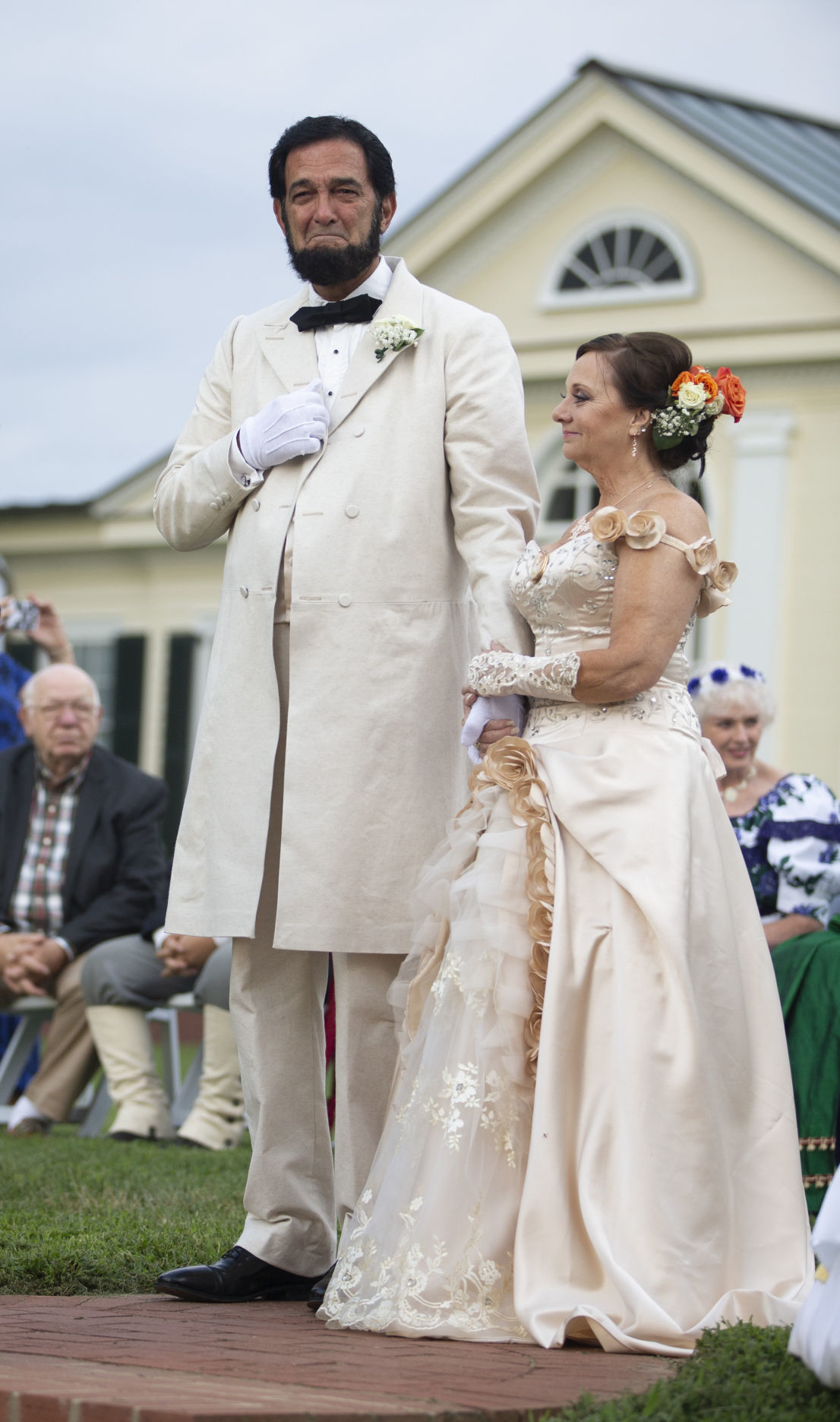 Woolum had watched him greet busloads of awestruck grade-schoolers outside Ford's Theatre and was there the day he served lunch to Edsel Ford II (great-grandson of Henry Ford.) It was only natural that they would marry as Abraham Lincoln and Mary Todd.
On July 27, at 7 p.m., as the sun sank over the Rappahannock and smeared the sky in pink, an extraordinarily tall and distinguished man in a cream linen suit and top hat walked down a bricked aisle and waited.
As a violinist played the "Bridal Chorus," she appeared, dressed in a silken, off-the-shoulder, champagne wedding gown and lace gloves.
Before a crowd of family and friends, of Union generals and at least one Confederate, of ladies in hats and hoop skirts, they exchanged vows, promising to love one another whether life took them to a log cabin or all the way to the White House.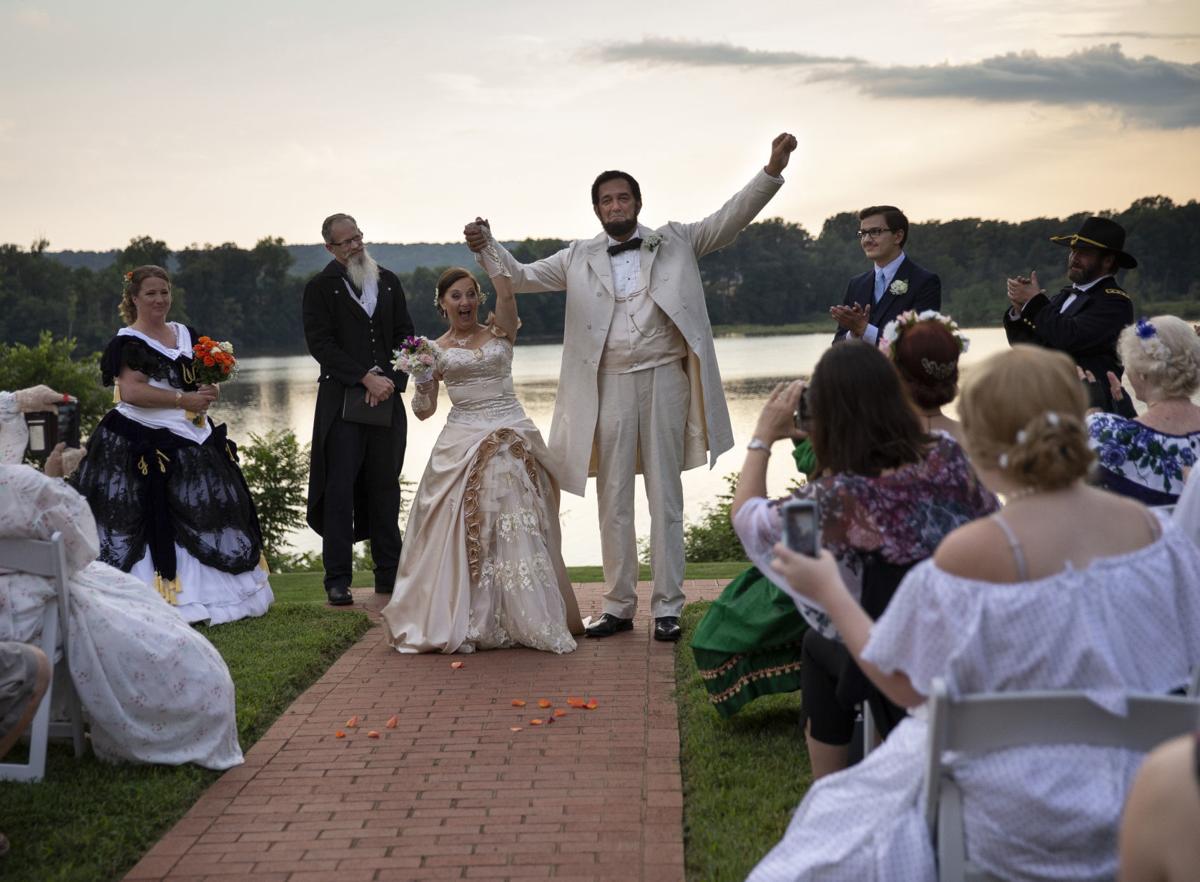 Source: bhmgnews.com
Photo Credit: Patch