January 10, 2018
340 Views
In just 24 hours, Black Panther is already setting records.
Fandango Managing Editor Erik Davis tweeted Wednesday morning the film already has more advance ticket sales than any other Marvel film in Fandango's history.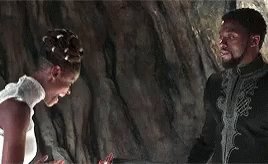 ErikDavis

✔

@ErikDavis

Big news this morning – #BlackPanther sold more advance tickets on @Fandango in its first 24 hours than any other MCU movie, besting previous record holder Captain America: Civil War. Long live the King!

 

62

62 Replies

 

2,530

2,530 Retweets

 

4,239

4,239 likes
The buzz for Black Panther is undeniable. The cast of the film is #BlackExcellence defined. Ryan Coogler co-wrote and directed the picture. Kendrick Lamar is creating the official soundtrack.
It is among the most anticipated films of 2018 and the weekend box office numbers will almost certainly reflect that.
Source: The Grio
Photo Credit: Wired
Photo Credit: Hip Hop DX
Photo Credit: Comicbook.com