Howard University says it stands with survivors of sexual assault, but it's also standing by Phylicia Rashad following her controversial tweet about Bill Cosby … which it acknowledges "lacked sensitivity."
As we reported, Rashad — who was recently named Dean of Howard's College of Fine Arts — responded to Cosby's stunning prison release Wednesday by saying, "FINALLY!!!! A terrible wrong is being righted- a miscarriage of justice is corrected!"
Her comment swiftly drew backlash and outrage, and although she followed up by saying she fully supports sexual assault survivors … she did not apologize or back down from her support of Cosby.
Howard University seems to be okay with that, while also distancing itself from her comments. A University rep tells TMZ … "Personal positions of University leadership do not reflect Howard University's policies."
Ads
Howard U. says "Survivors of sexual assault will always be our priority," adding … "We will continue to advocate for survivors fully and support their right to be heard. Howard will stand with survivors and challenge systems that would deny them justice."
As for Rashad, the school says "her initial tweet lacked sensitivity towards survivors of sexual assault." That's it for admonishment … at least so far.
Cosby was released from prison Wednesday — 3 years after a jury found him guilty of sexually assaulting Andrea Constand — because the Pennsylvania Supreme Court said the prosecution had not honored a deal the previous D.A. made to not criminally prosecute Cosby for the Constand case.
Everyone is shocked even Camille Cosby and Bill's family!!! Bill Cosby has just arrived at his home, and the first glimpse of him post-prison has surfaced.
He appeared to be wearing a mask, and required a bit of help as he made his way up his front steps. BC also seemed overwhelmed with emotion as he exited the vehicle that had picked him up.
11:43 AM PT — The Montgomery County District Attorney's Office is carrying a much different tune to the news of Cosby's release … saying, in essence, this does not truly exonerate him — and that he's only being cut loose on a legal technicality.
D.A. Kevin R. Steele says … "The majority decision by the Pennsylvania Supreme Court orders the release of William H. Cosby Jr. from state prison. He was found guilty by a jury and now goes free on a procedural issue that is irrelevant to the facts of the crime."
BILL COSBY HAS BEEN OFFICIALLY RELEASED FROM PRISON AND IS HOME!
Steele adds, "I want to commend Cosby's victim Andrea Constand for her bravery in coming forward and remaining steadfast throughout this long ordeal, as well as all of the other women who have shared similar experiences." He finishes by saying, "My hope is that this decision will not dampen the reporting of sexual assaults by victims. Prosecutors in my office will continue to follow the evidence wherever and to whomever it leads. We still believe that no one is above the law—including those who are rich, famous and powerful."
BTW, a rep for the P.A. Dept. of Corrections tells TMZ … Cosby has officially been sprung from prison. He's out.
11:07 AM PT — Cosby's former TV wife, Phylicia Rashad, is celebrating his release, saying, "FINALLY!!!! A terrible wrong is being righted — a miscarriage of justice is corrected!"
FINALLY!!!! A terrible wrong is being righted- a miscarriage of justice is corrected! pic.twitter.com/NrGUdwr23c

— Phylicia Rashad (@PhyliciaRashad) June 30, 2021
10:28 AM PT — We just spoke with Cosby's family spokesperson, Andrew Wyatt, who tells us the decision was just as much of a surprise to the family as it was to everyone else. Wyatt, who spoke to us from Bill's home, says he's headed to go and pick up the comedian.Play video content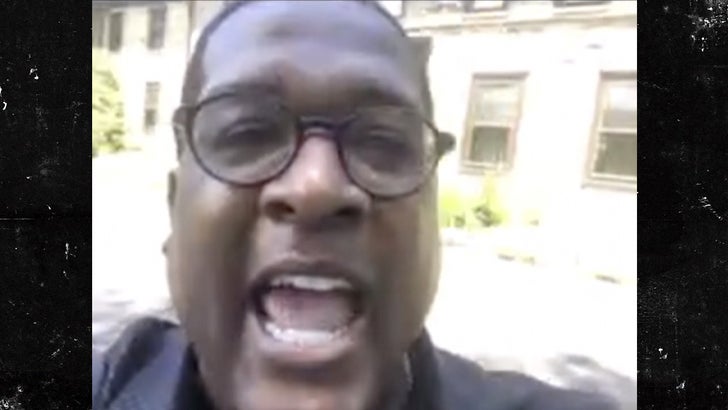 https://imasdk.googleapis.com/js/core/bridge3.469.0_en.html#goog_617006380"IT'S A GREAT DAY"TMZ.com
Check out his story of how exactly he came to learn about the court's decision — sounds like he was attempting to deal with a separate Cosby issue when he got the news … and had to do a quick U-turn to deal with the more pertinent update — namely, Cosby's release.
Wyatt also shed some light on how Cosby's wife, Camille, is processing this whole thing … and, as you can imagine, he says she's delighted. As you know, she's backed her husband this entire time.
Big picture … Wyatt is clearly overjoyed, and is taking this as a big win in his and Mr. Cosby's book. Wyatt also says Cosby's case should serve as a good wake-up call to anyone who's been in a similar situation regarding former deals with law enforcement officials. Basically, he thinks those folks should fight like heck — because, obviously, it could prove fruitful.
Bill Cosby is going free… released from prison today.
WOW #cosby #billcosby

— Donald Trump Jr. (@DonaldJTrumpJr) June 30, 2021
As for Cosby's imminent release … a prison official with the P.A. Dept. of Corrections tells us they are in receipt of the newly handed down legal docs, and are in the middle of processing and authenticating them now. So, at the moment, BC's still in lockup — but not for long, it seems.
Bill Cosby's conviction has been overturned and he will go free.
The Pennsylvania Supreme Court just ruled … there are 2 reasons why the conviction could not stand — the judge allowed prosecutors to call 5 other accusers during the trial, and Cosby should never have been criminally prosecuted based on an agreement he made with the former D.A.
As for the first reason … the Pennsylvania high court ruled it was unduly prejudicial to allow 5 women with stories similar to Andrea Constand to testify, trying to show Cosby had an M.O. for drugging women and then sexually assaulting them.
The second reason was fought hard during trial … former D.A. Bruce Castor cut a deal with Cosby that if he testified in a civil deposition he would not face trial criminally. During that deposition, Cosby made incriminating statements about drugging women, and it was presented at trial. The Supreme Court ruled the deal was broken by prosecutors.
The judge vacated both the conviction and the sentence and ordered the 83-year-old comedian discharged — presumably immediately.
The Court ruled not only is Cosby now a free man … he cannot be retried.
Cosby had served more than 2 years of a 10-year sentence.
Cosby's team is on its way to prison to pick him up.