September 8, 2018
1079 Views
We're told Cardi said, "Let me tell you something" … as she lunged toward Nicki, but security stopped her inches from contact.
Nicki Minaj seems untouched and unbothered 🤔 pic.twitter.com/WGAiYSHzrj

— DJ Akademiks (@IamAkademiks) September 8, 2018
But, Cardi wasn't done … she pulled off her shoe and threw it at her enemy … missing her target.
Cardi B & Nicki Minaj Got into a fight. Cardio got a big bump on da head. pic.twitter.com/PTLEoP4Kl1

— KEEM 🍿 (@KEEMSTAR) September 8, 2018
As for Nicki … we're told cool as a cucumber. She didn't even flinch.
Cardi was escorted out by security, and she left the building with one shoe on her foot.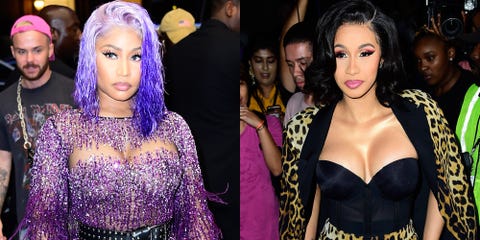 Cardi B and Nicki Minaj got into a major fight as they entered tonight's high-profile Harper's Bazaar ICONS Fashion Week event—take a look at the video:
View this post on Instagram
Tonight marks the fifth annual #BAZAARICONS party, where the likes of Lady Gaga and The Weeknd have performed. Kendall Jenner and Bella Hadid walked the carpet tonight shortly before the fight started. A crowd of party-goers were upstairs waiting to watch a performance by Christina Aguilera when the fight broke out.
Uhm Cardi def just got in a fight at the Bazaar party just now. pic.twitter.com/6PlQTLFiho

— Solomon Ray (@solomonraymusic) September 8, 2018
We'll update with more as the story develops.
Here's Cardi taking off her shoe to throw at Nicki (later, part of Cardi's wig was pulled off):Sources from inside the party say Cardi threw her shoe at Nicki—Cardi had a bump on her face when she walked out and the back of her dress was torn. Here's a look at the bump:Contrary to reports, Cardi did not fight with Rah
Nicki Minaj leaving after getting in a fight with Cardi B pic.twitter.com/a9truUUBja

— La Diabla (@realstephy) September 8, 2018
Now that's fashion!
Source: hotnewhiphop.com
Photo Credit: Ice Cream Convos