April 14, 2019
313 Views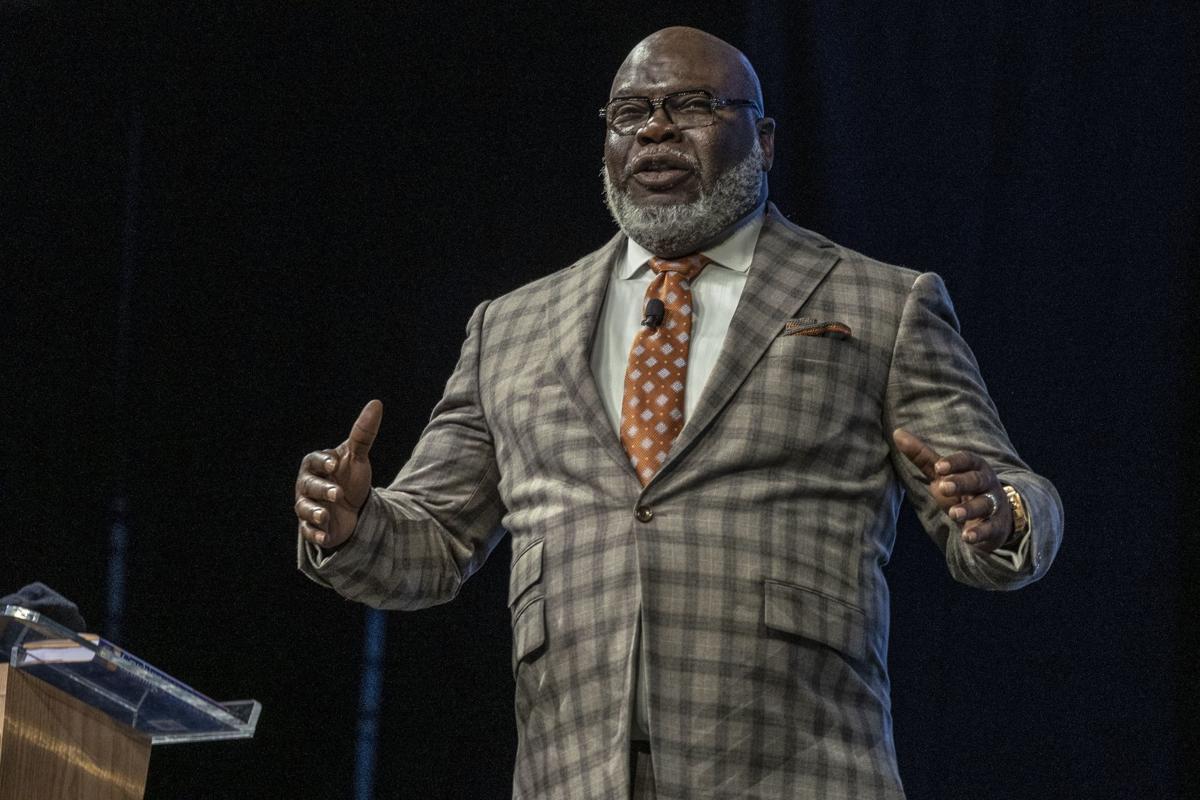 The N.Y. Times best-seller and big-screen movie producer used the example as a metaphor about obstacles and the process in becoming successful, as part of a discussion on "Living Your Best Life."
That crushing moment might seem familiar, he told them — that teacher or family member who called them stupid, the uncle who took advantage of them, someone who said their dreams are too big.
"If we don't tell you about it," Jakes said as cheers reverberated through the thousands listening at the Corbett Sports Center, "crushing will feel like the end."
He would go on to emphasize that it's not.
"You'll go down, they'll count you out … but you will rise again," he said.
Jakes, a sought-after speaker, is also a televangelist with a 30,000-member Dallas church and 22 million subscribers and social media followers, many of whom watch his broadcast. He graced the cover of Time Magazine several years ago with the headline: "Is this the next Billy Graham?"
Jakes spoke at the university as part of the Chancellor's Speakers Series, whose speakers are designed to inspire and challenge students.
At times he joked he was ready to preach.
"All the miracles in the room, holla at your boy!" the preacher joked, playing off of street slang akin to asking for an "Amen," which again drew the cheering crowd to its feet.
Jakes, who grew up in a working class family in West Virginia, drew comparisons based on his own life — a struggling family in the West Virginia mountains. He claimed that he had eaten spaghetti but never with spaghetti sauce — his mother used ketchup — until he ate lunch at school. He also said his father later took a mop and bucket and built a company that employed over 50 people.
Of everything he could have changed in his life growing up, he says he wouldn't have limited his dreams.
"I would have worked harder younger, and worked for a life I didn't imagine," Jakes said.
And that's what he told students he wanted for them, who he said he expected to lead the world.
"I have a crazy feeling there's somebody in this room hungry for greatness," Jakes said.
He hammered away at the point that it did not matter where they started from, just that they work harder than the next person, that they study longer even when others aren't.
"Being smart and being talented is not enough," Jakes said. "You have to be the toughest."
He talked about successful people he'd come across in his work and how he's yet to find a prototype for success. It's come to people who are extroverts and introverts, those who got the best educations and those who dropped out of school.
What he said he did find was that all of them were frustrated by something.
"It wasn't what they were running to, it was what they were running from," Jakes said. "You've got to have something behind you that (makes you say) this is my one shot … and the world is going to know I'm here.
"The winds beneath your wings," he said, "might have been a hurricane that tore up your life. "
Jakes talked about a recent trip to slave-holding places in Africa where people were often tied together and stacked on top of each other awaiting the next ship — and where 400 years later the stench of their trauma remains.
"Only the strongest survived," Jakes said "Most of you are the great, great, great, great grandchildren of those survivors."
Maximize their sacrifices, he said, telling students to live their best lives and to get moving, no matter how crushing life has been.
"All your ancestors in you," Jakes said, "are telling you to get back up."