October 18, 2018
671 Views
Disturbing video posted on Facebook of a mom allegedly abusing her own child has landed her in jail.
Laquadna Mosley, 27, is in Spalding County Jail where she's been charged with aggravated assault with intent to murder, first degree child cruelty and making terroristic threats. The charges come after the graphic clips showed up online and spread like wildfire.
The videos are so horrific that 11Alive is choosing not to show them.
The two clips, which were posted to Facebook Tuesday night, show Mosley's 5-month-old baby in a plastic infant bathtub. In one 6-second clip, Mosley can be seen lifting her baby by the legs, dunking the infant's face under water and leaving it there for several seconds. A second clip shows Mosley place her hands on the child's upper chest while water flows up to meet most of the baby's face.
A disturbing screenshot of a private message, allegedly between Mosley and the child's father, that was uploaded alongside the videos shows the 27-year-old threatened to kill the infant on Facebook Live if he didn't send her child support money. The father apparently lives out of state.
"This baby about to die on god," one threat read.
"Send me my money now or she bouta die on (Facebook) live," another message read.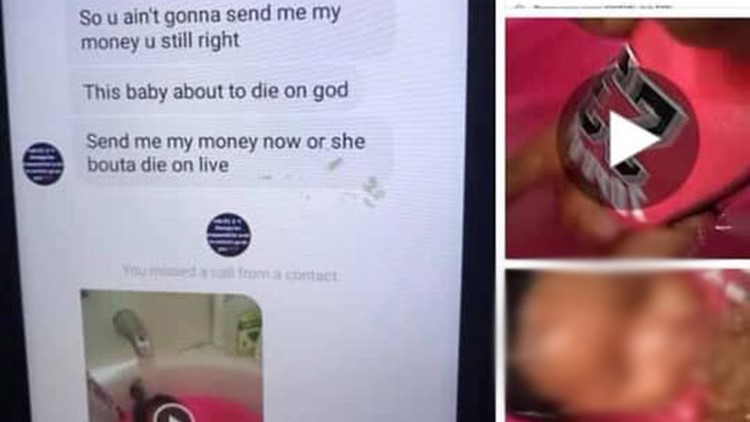 On Wednesday, 11Alive's Kaitlyn Ross spoke to Griffin Police, who investigated the case.
"I think we can all agree on that, no matter what line of work you're in, that is a tough video to watch," said Sgt. Chris Wilson with the department.
Wilson said they have contacted Facebook to get the videos – and copies of them – removed.
"We might be able to shut one down, but shutting down all of them" would be difficult, Wilson said.
Meanwhile, police are begging people not to share or repost any version of them, even if their intentions are good. In fact, the videos caused so much outrage and concern online, the City of Atlanta Police Department had to respond.
"The Department has been made aware of a disturbing video circulating on Facebook of a mother abusing her infant child. While this crime did not occur in the City of Atlanta, please know the mother was taken into custody in a nearby jurisdiction and the child is safe," the department wrote. "Please do not circulate the video further. We thank everyone for their concern and for reporting this crime to the proper authorities."
According to investigators, there were two other children in the home when Mosley recorded the video – a 5-year-old and a 6-year-old. Both of those children, as well as the infant, are now under the custody of the Department of Family and Child Services.
Mosley is set to have her first court appearance at 2 p.m. Oct. 18, but police said after watching the video, there could be more charges coming.
Source: 11alive.com
Photo CRedit:  Happy Girls are the Prettiest