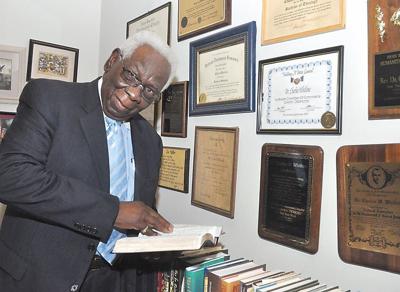 Union Baptist Church deacons gathered near the pulpit Friday where Dr. Charles. W. Whitlow delivered sermons for over 47 years to remember their time with the reverend. A reverend they say touched many lives in the community of Lawton and across the nation.
Whitlow passed away Jan. 2 at the age of 93.
Whitlow first heard the call of God to preach when he was 16 years old and living in El Reno. Growing up under modest conditions, he said he tried to ignore the calling and instead chose a career in education. He graduated from Langston University with a Bachelor of Arts degree, but in 1956 the calling returned and he took a position at St. Johns Baptist Church in Oklahoma City.
"It was not something I wanted to do," he said in 2014. "It was something I didn't want to do, and I tried to keep from doing it. I had a plan for a career. But that call was coming from God and it was something I had to accept."
Ads
Union Baptist Church Deacon Will Scott remembers Whitlow as a servant pastor. He said Whitlow never looked at his position with the church as job. He said Whitlow was not only a student of the Bible but an educator as well.
"This was not a job for Dr. Whitlow, this was a calling for him," Scott said. "So he cared about us, he taught us, he trained us. Dr. Whitlow was just a good man and he will be a great loss to the community. He was a student of the Bible, and anyone who ever was a part of his congregation — they left here with a lot of biblical knowledge, and teaching. That is one of the greatest things that I will miss about him, his ability to teach."
Worked with Dr. King
During a 2012 Black History Month interview, Whitlow recounted how he had worked with Dr. Martin Luther King Jr. in the National Baptist Congress of Christian Education. He described King as a Baptist preacher who was thrust into the role of a civil rights activist.
Whitlow told how King was invited to give a sermon in 1953 at Calvary Baptist Church in Oklahoma City, with the possibility of becoming its pastor.
"Dr. King came. He preached. Calvary Baptist Church in Oklahoma City rejected him and I thank God that they did. Because if Calvary Baptist Church had elected him to be their pastor, I doubt very seriously we would be here celebrating his legacy and life today," Whitlow said.
Scott said Whitlow was proud of his African American roots. He would talk about the challenges Blacks faced in the past and still face today, but he was never angry nor showed hatred to anyone. He said Whitlow believed love, understanding and education could bridge divides. Scott said Whitlow believed an education was key for the Black community to succeed.
"He always talked about Langston University," Scott said. "For him, Langston University was an opportunity for African American men and women to get, get a good college education. So he saw he saw the significance of that but he also saw the significance of the black church, how its role played in the community in teaching not hatred but that all men are created equal."
Never forgot where he came from
Scott said Whitlow, who was raised by a single mother, never forgot where he came from. Scott said Whitlow reminded him of a quote from the Rev. Jesse Jackson saying, "It's not where you come from but where you're going."
"In spite of the difficulties that he faced growing up, he showed hope to all of us," said Scott. "I heard years ago, from Jesse Jackson at an event I went to, say 'It is not where you come from, but it's where you are going,' and I think that's how Dr. Whitlow looked at things. He showed us it's up to us to decide where you want to go in life and any of us can come up with excuses. But he was very much into education, and anyone who came through here, he always gave them an opportunity to learn to do whatever they felt they wanted to do. He didn't hold people back from things."
Moved to Lawton in 1974
Whitlow moved on to a small church in Dover and onto Pauls Valley until a position opened at First Baptist Church in Chickasha. Once there in 1968, he became the first Black teacher at Chickasha High School where he taught social studies. Whitlow stayed until the members of Union Baptist Church reached out to him. The pastor's health was failing and they needed someone to lead the congregation. Moving to Lawton in 1974, the reverend led the church and taught at Lawton Public Schools.
Not content to simply be a teacher and a pastor to his congregation, Whitlow wanted to do more to help a community he saw in need of assistance. He served on the boards of various community organizations, including the local chapters of the United Way and American Red Cross, as well as the Pregnancy Resource Center. He served on a capital improvement project committee and others that helped steer Lawton's improvement over the years.
Whitlow retired from his job as a teacher with Lawton Public Schools after 18 years and went on to dedicate his life to the ministry and charity work. He said in 2014 that there were times when he said there were not enough hours in the day to address everything that needed to be done in his community. But he understood that is part of doing the right thing.
"I always felt if anything was worthwhile, it was worth making a sacrifice for," Whitlow said. "Some of those things required a sacrifice. I felt like teaching and the other things I did really tied into my ministry as a whole. All teaching isn't just done in the classroom. It's about what we do as people."
Was active throughout the state
Scott said Whitlow was active not only in the community, but throughout the state. Whitlow served as the State President of the Oklahoma Baptist Convention and as part of the national Baptist Convention. Regardless of where he served, Whitlow was a teacher to those around him, Scott said. But for Scott, the memories of Whitlow are more personal.
"We all will have our own stories about Dr. Whitlow, but for me he was very intimate part of our family. He baptized all three of my children. He married me and my wife and married my daughter. We've all been touched by him in this community. He could relate to you at any age group. Regardless, if you were older if you were younger, because he was just able to communicate on that with anyone. And he was current and well read on what was going on in the community. He just knew how to reach people."
Although Whitlow is gone, Scott says his legacy at the church will continue. He said Whitlow and the deacons developed a policy and procedure manual that is helping the church get through this difficult time.
"He pretty much laid out for us what we should do if this time ever came," said Scott. "So, it was certainly saddening for us but he left things for us to help us to go forward, even though he might not be here anymore."
Whitlow has also received a number of special honors in his career including the J.L. Davenport Achievement Award; Outstanding Man of the Year, Omega Psi Phi; Citizen of the Year; Dr. Martin Luther King Jr. Humanitarian Service Award, among others, according to information provided by Union Baptist Church.
Among his many accolades and honors, he also has a street named after him. Dr. Charles W. Whitlow Avenue runs a mile east and west between Southwest 11th and South Sheridan Road. The name was changed after members of the community led by Lawton City Councilman Stanley Haywood brought a proposal to the City Council to rename the street.
Whitlow said in 2014, "I don't want to be one of those who comes to a point, sits down and wishes I had done this or I had done that. I want to be able to do all I can while I can. So when I come to that point where I can no longer do it, I can be satisfied in knowing I did as much as I could."
Scott said he believes Whitlow died knowing he had accomplished that goal, a goal that says Whitlow lived his life without regret.