October 14, 2017
487 Views
A museum in China this week removed a photography exhibit, which juxtaposed images of wild African animals with black African people, after complaints that the display was racist.
People were quick to make reference to racism, including one particular photograph that had a child with his mouth open and a gorilla with its mouth open, The Guardian reports.
Other photos in the series include an African man bearing his teeth next to a lion.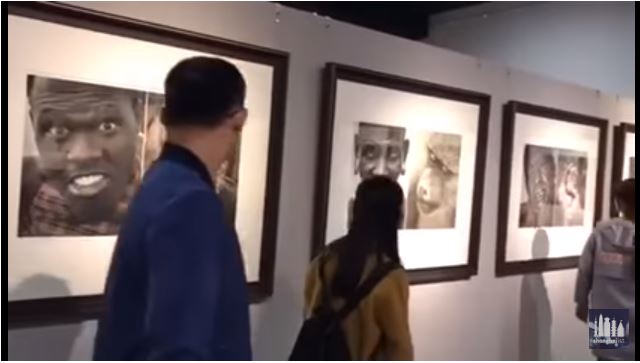 And if that wasn't embarrassing enough, the country's main social media messaging service was forced to apologize because its automatic translation bot was translating the term for "black foreigner" into the n-word.
The exhibit was eventually removed after complaints by Africans, including some living in China, the curator said.
Currently, China is Africa's largest trading partner, meaning the country often hosts visitors from the continent.
People were outraged by the exhibition.
There have been several other incidents when it comes to China and race. He has visited Africa more than 20 times over the past decade.
Last year, a laundry product firm apologised after a TV advertisement for its detergent showed a black man being forced into a washing machine before emerging transformed into an Asian man.
"The target of the exhibition is mainly a Chinese audience", Wang told the New York Times.
Wang said many Chinese people relate to their animal familiars assigned by the Chinese zodiac and "in Chinese proverbs, animals are always used for admiration and compliment". But once Yuejun learned that "putting the photos of African tribespeople and animals together hurt the feelings of the African tribespeople", he had the pictures removed to "show respect for our African friends' opinions".
Before viewers complained about the photos, the president of the prestigious China Photographic Publishing House, praised the photographer for "capturing the vitality of primitive life", in a since-deleted social media post, according to the Washington Post.
The offensive nature was first notices by a Nigerian Instagram user, Edward E Duke.
A Chinese user of Weibo, a popular blogging platform, said she was blown away by the photos in that section.
And the comparisons were direct. Photos of African citizens were framed alongside photos of animals making similar facial expressions.
Source: appsforpcdaily.com
Photo Credit: Laraine Armenti