March 21, 2019
394 Views
Actor and former Gov. of California Arnold Schwarzenegger isn't standing for President Trump's attacks on the late Sen. John McCain. The "Terminator" star took jabs of his own at the president while calling his previous comments "unacceptable."
Schwarzenegger commented on the controversy surrounding the president's statements both in interviews and on social media criticizing and insulting McCain, a military veteran and prisoner of war, seven months after his death.
"He was just an unbelievable person," Schwarzenegger told The Atlantic. "So an attack on him is absolutely unacceptable if he's alive or dead—but even twice as unacceptable since he passed away a few months ago. It doesn't make any sense whatsoever to do that. I just think it's a shame that the president lets himself down to that kind of level. We will be lucky if everyone in Washington followed McCain's example, because he represented courage."
The former bodybuilder also took a shot at Trump's physique, joking that the president needs to be focusing on infrastructure and immigration reform when he wakes up to do his morning workout.
"I know he must be working out every day because he's so unbelievably in shape," he then told the magazine.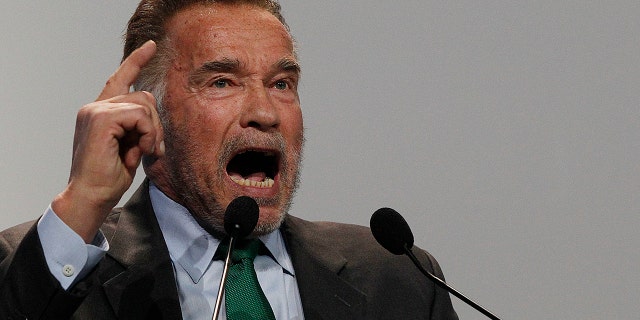 As previously reported, Trump has been fixated on the topic of McCain lately, starting with a series of tweets that criticized reports that the late Senator and an associate had shared an unverified dossier to the FBI alleging that Russia held compromising information over Trump.
"He had far worse 'stains' than this, including thumbs down on repeal and replace [of the Obama-era Affordable Care Act] after years of campaigning to repeal and replace!" Trump tweeted Saturday.
McCain's daughter, Meghan, deepened the rift on social media and on her show, "The View."
"He spends his weekend obsessing over great men because he knows it, I know it, and all of you know it, he will never be a great man," she said. "My father was his kryptonite in life and he was kryptonite in death."
Trump then told reporters on Tuesday that he was "never a fan" of McCain and that he "never will be."
Trump further took on the senator during a speech to Ohio plant workers.
"I endorsed him at his request, gave him the kind of funeral he wanted, which as president of the United States I had to approve," Trump said. "I don't care, but I didn't get a thank you."
"I never liked him much," Trump said. "I really probably never will."
Source: Fox News