November 7, 2018
1540 Views
WELL COME ON THEN, HOUSTON! #Roommates, back in September we introduced you to 19 qualified queens who were running for judge in Harris County, Texas. The midterm elections took place last night and we are happy to report that all 19 women made history together last night by winning various judicial seats, according to Cosmopolitan!
The women, who call themselves the #Houston19, were reportedly the largest number of African-American women ever to be on the ballot in Harris County, which includes most of Houston and is the third-largest county in the country.
Congratulations to Sandra Peake, Judge Ramona Frankin, Germaine Tanner, Angela Graves-Harrington, Cassandra Hollerman, Tonya Jones, Dedra Davis, LaShawn A. Williams, Latosha Lewis Payne, Linda M. Dunson, Toria J. Finch, Erica Hughes, Lucia G. Bates, Ronnisha Bowman, Michelle Moore, Sharon Burney, Shannon Baldwin and Lori Chambers Gray for being a fabulous example of Black Girl Magic!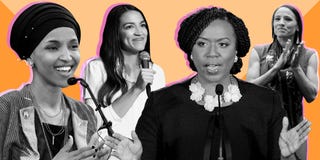 LaShawn A. Williams wrote that she was humbled to be a "part of a club of phenomenal Black women" on Facebook back in August.
"I've waited for the reveal of this photo of 19 judicial candidates for several weeks – 19 Black women running for judge in Harris County, Houston, TX. This entire time I've thought of what I'd say the day we were able to share this moment in history with everyone. But really I'm humbled," she wrote.
"Never did I imagine that the day I decided to run to be judge, I'd become a part of a club of phenomenal Black women, sisters-in-law, gifted, brilliant, strong – everything I hope to be! It is with great pride and excitement that I share this "Black Girl Magic" with you! Congratulations – you are truly black girl magic!"
Source: TSR.com